Good university courses are competitive, so your Personal Statement needs to be competitive to stand out.
UCAS have well over 500,000 university applicants every single year. That's half a million Personal Statements being written. With so many people aiming high at their dream university offer, how do you differentiate yourself?
Your Personal Statement is just one of the factors that differentiates you, but a big one. Your grades show your academic ability. Admissions tests' test your propensity to learn. Your interview will only be a factor if your personal statement is up to scratch – don't underestimate the importance of it!
What is a personal statements?
Applying to university is both an exciting and confusing time. You will make a decision that will decide the next 3-6 years and potentially your entire life. Your personal statement is your chance to show the universities you apply to who you really are. The rest of the application is faceless statistics – the personal statement gives the admissions tutor the opportunity to look beyond those statistics and focus on the real you, the person they may spend at least three years teaching their subject to.
How does the process work?
You apply for university through the UCAS system. You can apply for up to 5 universities (only 4/5 can be for Medicine). After receiving your offers, you can make a first and reserve choice. It's important that the same application is sent to all of your choices. It is a good idea to apply for similar courses as they will all get the same application.
The only part of your application which you have direct control over is your personal statement – this is your chance to convince the reader to give you a place at their university.
What are the requirements?
The final deadline is the 15th of January. For medicine, dentistry and Oxbridge, be aware there is an earlier deadline date of the 15th of October.
Schools often have an internal deadline, this is worth checking with your school, so they can sort out their references in time.
Your personal statement must be;
Minimum 4000 characters
Maximum 47 lines
Submitted by the deadline
This is a rough timeline you should follow when completing your application: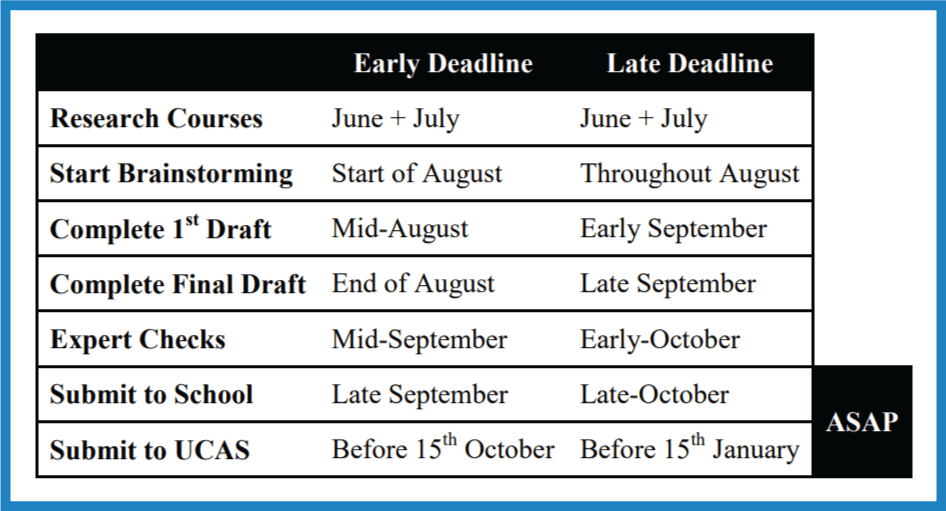 What are tutors looking for in your personal statement?
There are a few things that tutors are looking for in your statement;
Academic ability – this is obvious but make sure you tick all the entry requirements for the course in your personal statement.
Extra-curricular activites – although you should mention them, they shouldn't be the focal point. There is importance placed on work-based activity e.g. work experience.
Passion for your subject – this is the most important factor. You should be passionate about why you want to take on this subject!
Personal USPs (unique selling points) – these are the factors that set you apart. Many applicants will have similar grades and work experience, but what makes you YOU?
When is the best time to start your personal statement? NOW!
Give yourself the most time possible to perfect it – it might be the only thing an admissions tutor sees! You'll get specialist support with all areas of your application through UniAdmissions' Programmes, including expert Personal Statement redrafts.
DISCOVER UNIADMISSIONS' PROGRAMMES