Applying for Oxbridge is an opportunity seldom approached correctly.
The official statistics [1][2] paint a clear picture: to succeed, you must be amongst the top 18% of a strong cohort of applicants. For ultra-competitive courses such as Medicine, Natural Sciences, Engineering, Law and Computer Science the competition is even stiffer.
It begins with our intimate Oxbridge admissions knowledge and our unique, tailored approach for each student, as well as our rigorous selection of expert tutors who truly are experts in their field.
By adopting a systematic approach, building programmes into a structured syllabus that works, we provide a comprehensive approach to your admissions process.
Read on to find out how we can support your application to the world's most competitive Universities and courses.
Oxbridge: unattainable standards?
A quick glance at the Oxbridge applicant success rates (figure 1) shows you that overall, you are looking at a less than 1 in 5 chance of gaining a place.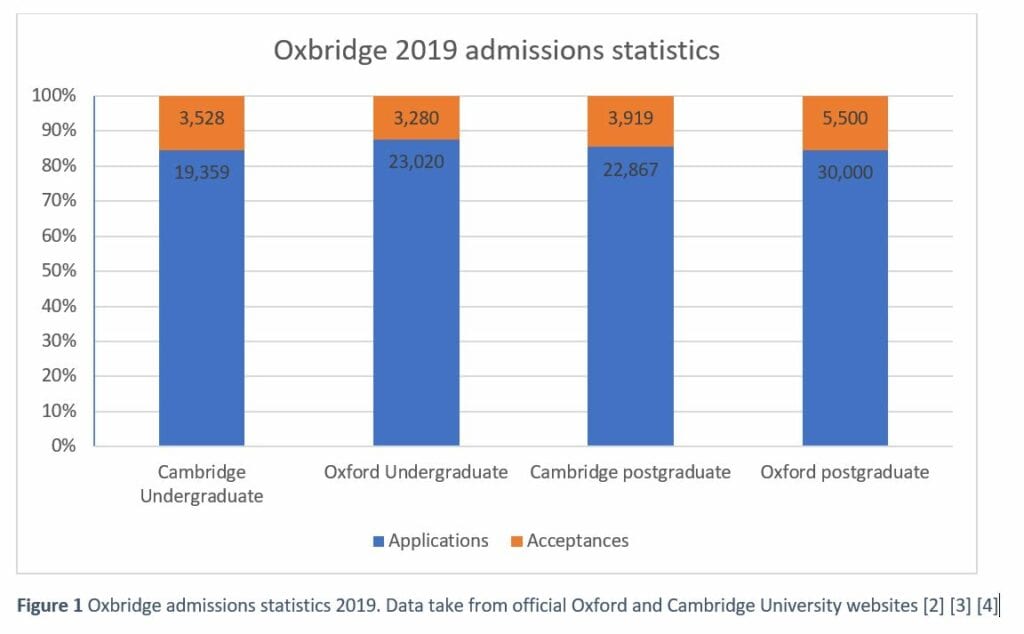 However, this is the average amount across all subjects. Naturally, there is some fluctuation and certain subjects are far more competitive than others. Statistics for some of the most competitive subjects are shown below (figure 2 and 3):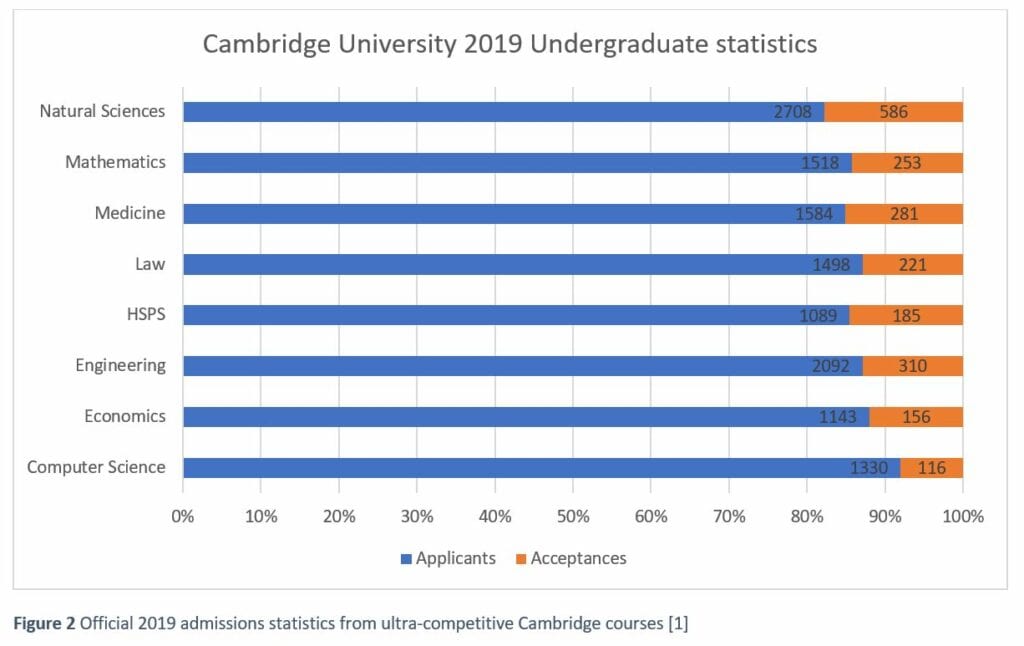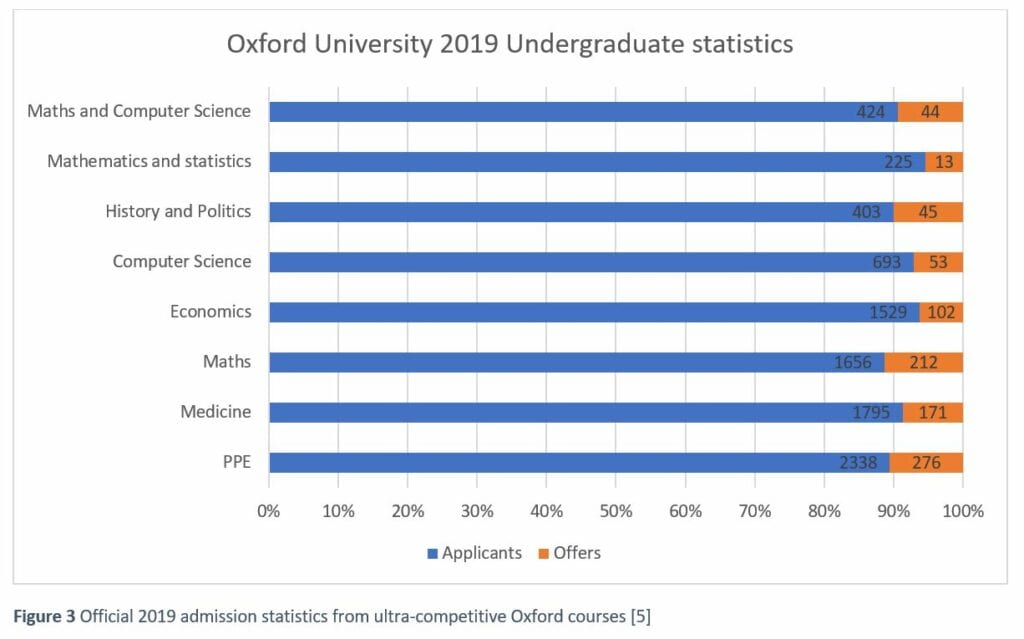 As shown in figure 2 and 3, some courses are competitive to the extent of requiring you to sit in the top 5% of applicants. This is no easy feat!
However, these subjects are also amongst our most popular. Read on to see our success with these extremely competitive courses.
Oxbridge: attainable with our approach
Our knowledge of the Oxbridge system extends to these ultra-competitive courses and we only utilise tutors who have were in the top 10% in their admissions test and have successfully negotiated the Oxbridge admissions marathon.
To properly prepare for the Oxbridge admissions procedures, it is vital that you plan, strategize and practice for a thorough process that will probe your academic prowess and passion like no other.
We ensure you are able to engage with an expert tutor, utilising a collection of expert written resources to develop as an independent thinker. Furthermore, it is a stressful process; we ensure you are supported by our Programme Managers who are dedicated to helping you gain the most out of your Programme.
This unique approach drives our industry-leading success rates. Below (figure 4) is a selection of our official 2019 statistics: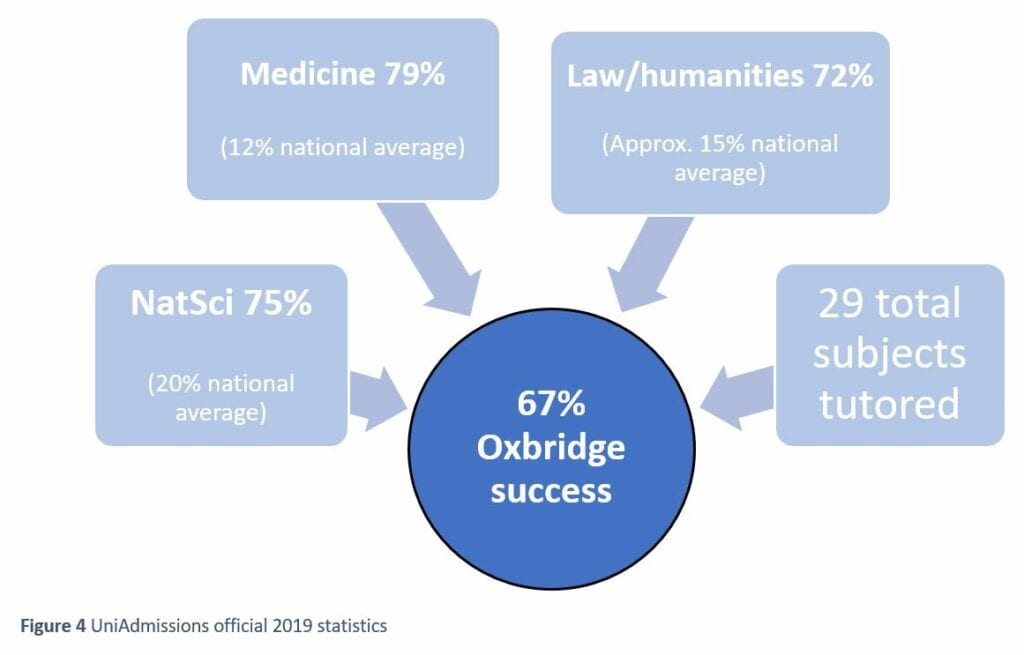 Medicine: the many hurdles
It isn't just Oxbridge where competition is fierce: applications for competitive subjects such as Medicine are also extremely high quality, leading to a national average of just 12% of applicants with at least one offer.
Our comprehensive, tailored approach to the Medicine programmes is what secures our industry-leading success rates; in 2019 we achieved an overall 79% success rate across all of our Medicine students.
Furthermore, we don't just specialise in Oxbridge Medicine – in fact, 57% of our Medicine students applied to non-Oxbridge Universities.
The difficulty students face with Medicine is that it has many hurdles:
Multiple admissions tests (namely the UCAT and BMAT)
The personal statement
Several different interview styles including tutorial, panel and multiple-mini interview (MMI) format
Requirement of work experience
The array of application metrics, coupled with the need for a foundation of robust grades and work experience, means anything other than a structured approach will lead to significant weak areas in your application.
This is clearly demonstrated when you look at our average results next to the national average, as well as comparing to a leading company offering a non-structured, free resource-based approach to Medicine (figure 5).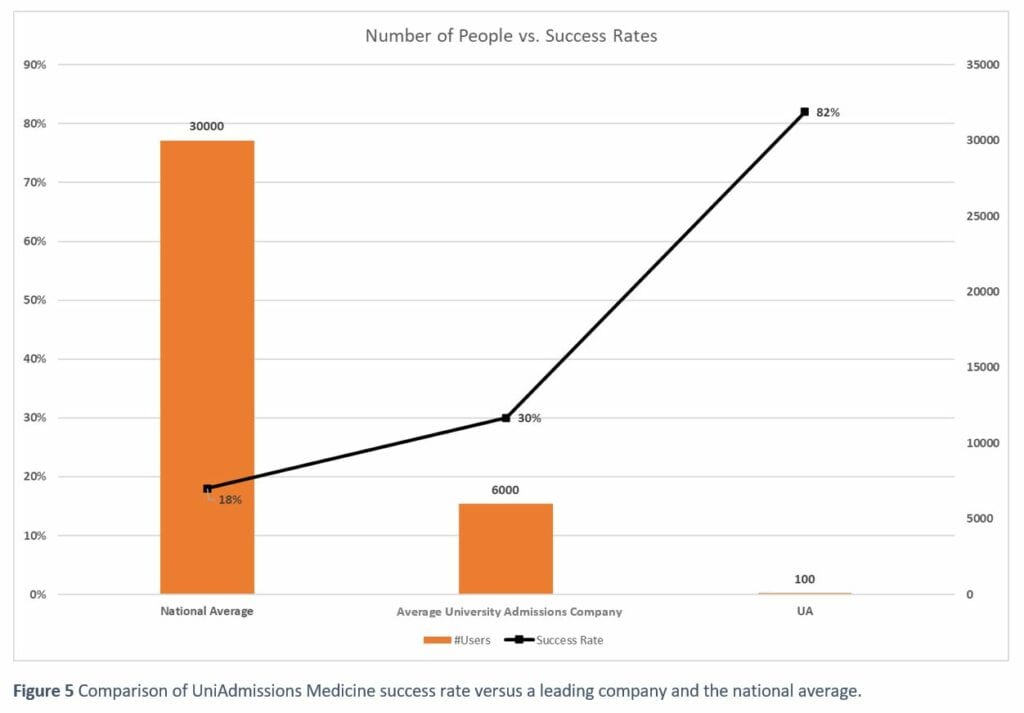 Clearly, relying on passive practice with various online resources may offer a small benefit, but when you compare this disconnected approach to our comprehensive syllabus you can see your success will nearly triple: a clear benefit to a programme structure.
In short, we approach Medicine applications as an extension of GCSE and A level revision: the most effective way to succeed is to learn from the experts, engage with the material and ensure no areas are neglected.  
The UniAdmissions formula for success
Our approach to Oxbridge and Medicine applications is what guarantees you a significant competitive boost. The guiding principle in all of our services is to nurture the inner high-achieving student so you can reach your deserved potential.
But what makes a competitive student, capable of studying the hardest degrees at the very best Universities? Furthermore, how does UniAdmissions nurture you to reach these dizzying heights?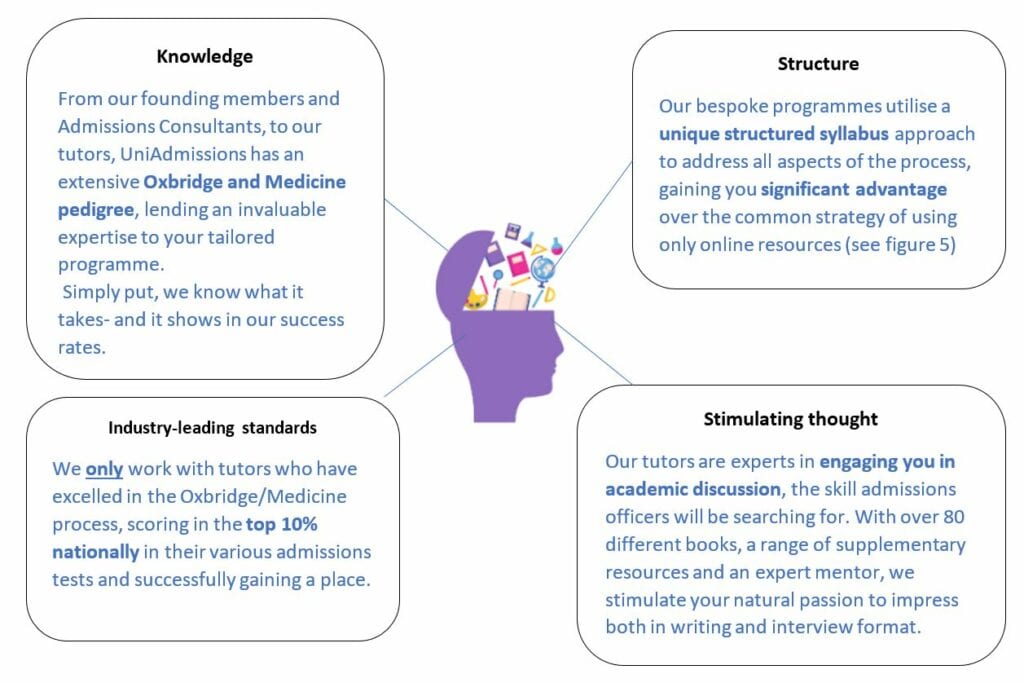 Our expert tutors work with you every step of the way to utilise your academic prowess and channel it in an effective manner. We never "spoon-feed", because admissions tutors are looking for passion and to push the boundaries of logical reasoning- not how well you can memorise what you've read.
With every tuition session you will get a detailed report, enabling constant personalised feedback that offers value far beyond the minimalist approach most students take. In addition, academic discussion with our expert tutors remains one of the most realistic ways to practice for an academic interview.
Complimentary to any Programme we offer are our weekly enrichment seminars. These seminars are delivered online by our tutors on a variety of different topics, vital to improve your wider understanding of a topic. The enrichment seminars promote exactly the style of thinking that Oxbridge admissions tutors are looking for in potential candidates.
Building a programme for you
As demonstrated, the structure of our programmes drives success and constant improvement. However, it is also the content with which we pack every programme that ensures you develop as a student and independent thinker.
A typical programme is built around a roadplan for your study hours and tuition sessions, aided by a structured syllabus and tutor reports. To supplement this, we provide an array of resources such as:
Online videos and lectures to promote independent study
A relevant mix of books out of over 80 in our library
Course reading lists to guide intellectual discussion
Past papers to work through with tutors in a structured syllabus
A marking and feedback service to improve weaknesses
Online courses to provide interactive academic stimulation
Weekly enrichment seminars for wider subject knowledge
The value of these resources comes from the link between structure and content: in isolation, these resources will only improve an area of your application by a finite amount. However, by applying them to a structured plan, utilising them in an effective way and with an expert tutor for guidance, you can achieve far superior results.
The mistake many students make is to utilise individual resources that may seem comprehensive at first, but without a solid framework of expert guidance and the structure of a timetable, the benefits are lost. For this reason, our Programmes remain our flagship support and we have seen demand for them increase as this becomes apparent.
We are the Oxbridge and Medicine specialists and our statistics show it: with industry-leading success rates, the highest level of tutor selection and expert resources disseminated to over 150 countries, our impact on admissions success is unparalleled.
Investing in our Programmes is just that: an investment into your future. Research from the Sutton Trust has found Oxbridge graduates gain, on average, an extra £400,000 in lifetime income compared to non-Oxbridge graduates [6]. In addition, the academic opportunities you'll encounter can be quite literally life-changing, as attested to by every member of our team who has studied at Oxford or Cambirdge.
Our unique system ensures you are in 24/7 contact with our success team and have the guidance of tutor reports after each session. We operate with a 14-day "cooling off" period to ensure you've built the right programme for you- simply put, let us show you our value and if we don't reach our usual exceptional standards, we will make it right.
UniAdmissions success rates prove the effectiveness of our Oxbridge Programmes.
Through our structured syllabus, you can more than triple your chances of success. Discover our Premium Programmes and begin your university journey today.