What Questions Will be Asked in a Cambridge Medicine Mock Interview?
We're taking you through the thought processes behind a Cambridge medicine mock interview and why it's useful for your child to practice before the actual big day.
Cambridge University is one of the most demanding and academically rigorous universities out there. It's no surprise that its standards for Medicine Students are very high.
If your child has done well enough to get this far, then very well done! However, the interview stage is one of the most important, and having a good knowledge of how the questions may go is the kind of information that is vital to have up your sleeve.
One way to get an idea of the interview process and get the type of questions they could be asked stuck in their mind is with a Cambridge medicine mock interview under their belt for practice. It will certainly put your child in a good position to do the best they can!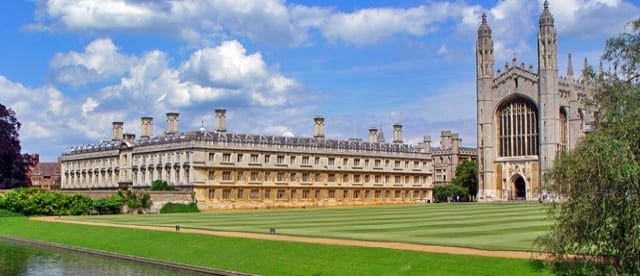 What is the structure of a Cambridge interview?
Cambridge uses the traditional method for interviewing its students, rather than the modern multiple mini-interview technique. The interview will consist of at least 2 separate interviews in which the applicant will talk to one or more interviewers for around 30 minutes.
What is Cambridge University looking for?
The official criteria that Cambridge University state they look for in a candidate is listed as follows:
Scientific and related competencies
Personal qualities
Communications skills
An understanding of the professional and career requirements
The Clinical School states they look for the following attributes in potential students:
Knowledgeable about the scientific basis about the key qualities of a medical student
Honest, caring, knowledgeable and competent.
To always show respect for their patients
Have excellent communications skills
Understand the importance of the physical, psychological, and social aspects of patient care
Ability to work effectively within multidisciplinary teams
A readiness to continually learn the field to fully prepare themselves for their roles of doctors.
Take a look at a Cambridge Medicine mock interview in progress:
We've broken down how to answer a medical question through extra reading and how demonstrating a knowledge of modern medicine in the wider world can benefit your interview:
Let's Look at Some Cambridge Medicine Mock Interview Questions…
The following list gives you an example (in order) of how a Cambridge medicine interview might go. Perhaps you can use them to create a mock interview scenario with your child? While this should be taken as a mock only, it incorporates the main types of questions expected in the real interview. The questions are as follows:
"Why did you choose to study Medicine? Why not nursing or engineering?"
"Why did you choose Cambridge in particular rather than other medical schools? What do you think about Cambridge's Pre-Clinical and Clinical system? Would you say that it is a disadvantage for students here that they are not exposed to patients until much later in their degree than students at other universities?"
"Can you describe a medical encounter that had a big impact on you?"
"Please draw a diagram of the heart and describe the functions of its various parts"
"What do you know about the cranial nerve?"
"Could you draw a diagram of the lung, and describe why each of its component parts are important to the functioning of the body."
"What are proteins, and how do proteins fold? How can this go wrong in some cases?"
"Why is the shape of a protein important?"
"Look at this X-ray – What part of the body is it, and from what angle? Is there anything wrong with this patient?"
"How would you go about conducting further examinations here? What is the best option for testing for something like a tumour?"
"What are the worst problems in the western world for health?"
"How do sugar, milk, salt, and flour affect your body?"
"Have you read any recent research papers? Can you describe it to me?"
"If you had to describe a human body to an alien, what would you say?"
Tips for approaching a Cambridge Interview
A Scientific Approach
Cambridge prides itself on focusing mostly on the scientific aspects of medicine for the first few years of its medical degree. Candidates being interviewed need to be up to scratch on their A Level Chemistry and Biology, as they might well be expected to show some basic knowledge on the subjects.
Cambridge asks for some of the highest grades for applicants, especially in scientific subjects, so do be ready to employ the knowledge that you already have. Sometimes questions may not seem immediately applicable to your A Level subjects, but there may yet be a connection somewhere. Just take your time and think about each question before diving right in.
Try practicing questions about ethical medical scenarios
Some questions may ask the applicant what they would do in an ethically ambiguous scenario, such as choosing one patient out of 5 to receive a life-saving operation based on various criteria. They need to remember to approach these questions keeping the 4 pillars of medicine in mind; Autonomy, Non-Maleficence, Beneficence, and Justice.
Applicants must always show respect for the patients in any medical scenario that is given. This is one of the most important aspects of a doctor's job, and Cambridge feels no different about this.
It is well worth doing some research into the ethical 'policies' of the NHS and modern medicine, as sometimes it may seem surprising what is considered standard and mandatory responses to certain situations in real medicine today.
If you know how these situations are approached in medicine today, you will do much better in answering ethically ambiguous questions yourself.
Don't be afraid to ask questions
Sometimes applicants will be asked questions they do not know the answer to. At this point, applicants should not be afraid to ask for help. It is better than floundering hopelessly and shows an eagerness to learn.
Remember that tutors will be looking for students that they want to teach! Candidates should not feel like they have automatically failed if they are unable to answer a question without some help from the interviewer(s).
Is your child applying to study Medicine at Cambridge? Triple their chances with our Oxbridge Medicine package!
Is your Child Nervous about their Cambridge interview?
Firstly tell them that nerves are completely nervous at this stage of the application process. Who doesn't feel a little bit nervous in an interview? Nerves are a good thing and, when utilised well, can actually bring about some great results in an interview. There are some things to remember to help your child realise they're not alone and, hopefully, calm those interview jitters. We've jotted them down in our latest blog.