Guide To International Students Applying to Engineering In The UK
So, you are thinking of applying to an Engineering course in the UK. Well, this article will give you the perfect outline of everything you need to know before applying.
What Are The minimum requirements to study engineering in the uK?
First things first. You need to consider the minimum requirements for an engineering course. In the UK, we use A-levels – which are scored from A* to E – for university admission. For an engineering course, universities will most commonly require students to have achieved two or three A-levels (AAB). Logically, the grades you have will need to be equivalent to having studied A-levels.
As an international student, it can be hard to know if your pre-university grades are enough or even recognised in the UK. Luckily, universities in the United Kingdom are quite diverse and, as such, accustomed to having a high intake of international students.
If you are an IB student, you will be dealt with slightly differently. Your application will be treated the exact same, but you will not have UCAS points. Instead, each university will have its own approach to the IB marking scheme and will usually attribute points to each individual component that makes up the IB diploma. Typically, the minimum entry requirements for IB are 35 points. If you want to read more about it,  here's some useful information on  IB & UCAS points and a guide for IB students.
The majority of the universities' websites will have a section dedicated to entry requirements for international students. So, once you have figured out which universities you want to apply to, research their website to find out about country-specific information. Here's an example from The University of Manchester. This page covers everything from entry requirements to other useful contacts.
If the university you are trying to apply to does not have a page dedicated to international students, we would recommend getting in contact with the admissions office. Browse the university website and send them an email. However, bear in mind this could take some time so plan accordingly.
Which area of Engineering should i study?
Your entry requirements will also be dependent on the area of engineering you are applying to. The UCAS website has a list of all the courses offered by UK universities in engineering and technology. Here are a few examples: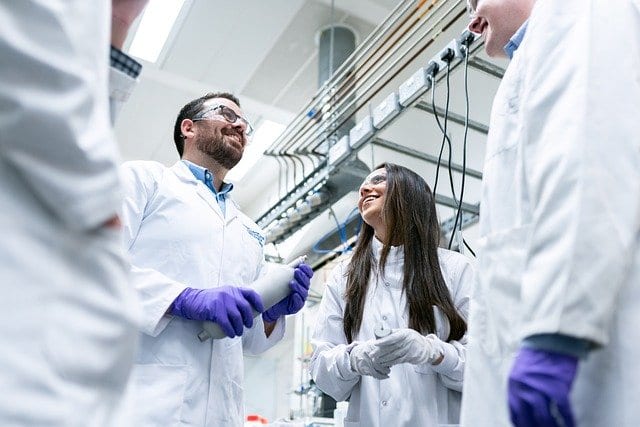 You need to be clear about which area you're going into. Engineering is a broad subject! Moreover, a course in Civil Engineering will be much harder to get into than a course in general engineering, so it is a good idea to keep this in mind. Things such as course duration can also be very different which will ultimately affect how much money you will have to pay for tuition fees and living costs.
We have written a comprehensive article on all areas of engineering which you can access here. This should help you decide which areas you're keener on studying.
Which Universities offer engineering courses in the uK?
Over 30 universities in the UK offer some type of course in engineering, so there are plenty of choices! The best way to select a university is to think about what's more important to you. Do you want great teaching? Do you want a university with high graduate satisfaction? Or maybe you prefer a university closely located to main hubs like London?
Make sure to write down exactly what you're looking for in a university and then start your research. You might find ranking tables useful but make sure you filter them to reflect the course you are applying to. Sure, some universities such as Cambridge and Oxford will consistently be on the first few spots of every UK ranking table (regardless of the course), but if you're not applying to Oxbridge then it's important that you look at subject-specific tables.
For example, this table gives you an insight into the percentage of international students in UK universities. Although not directly, this data can be used to get a feel of the acceptance rate for each university. 
Another example is this ranking table which can be filtered. As you can see, Cambridge and Oxford are indeed in the top 3 spots, but the University of Glasgow is actually "better" for Civil Engineering than Oxford. An interesting observation worth keeping in mind.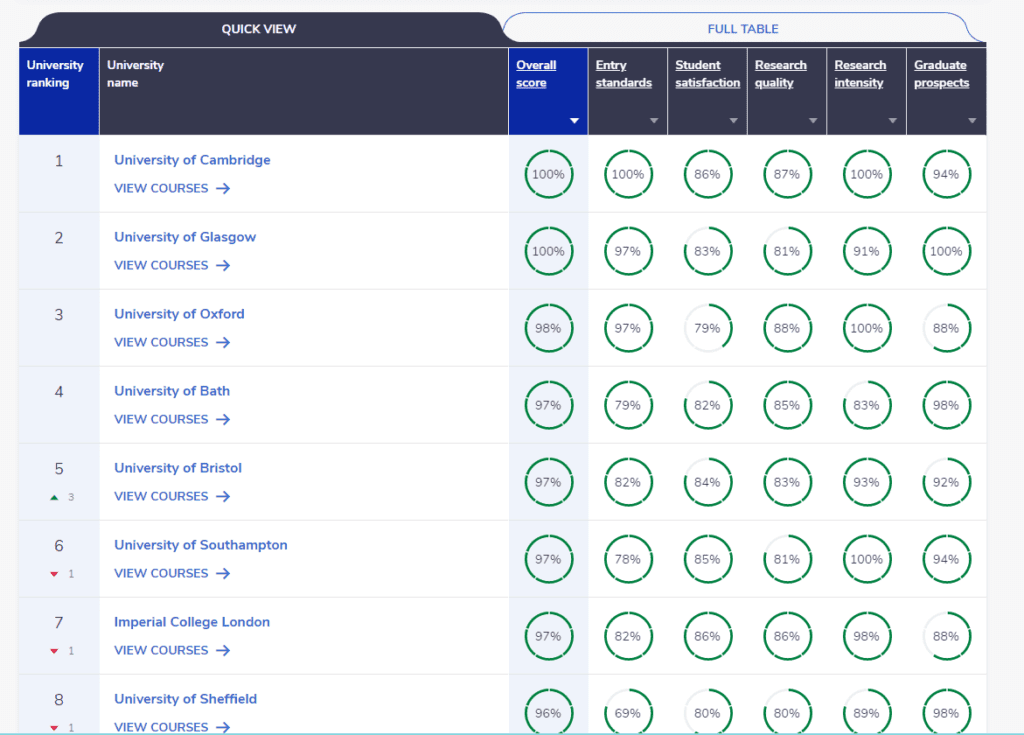 Applying to study in the UK as an international student
The first thing you need to know is about the Universities and Colleges Admission Service (or UCAS for short). This is the platform that all universities in the UK use to receive their undergraduate applications.
The second thing is making sure you meet the course requirements. Do not forget to check the university website and make sure your grades meet the minimum entry requirements. 
Additionally, if you are applying to Oxbridge you will need to take an admission test. For Cambridge, it's the ENGAA and for Oxford, it's the PAT.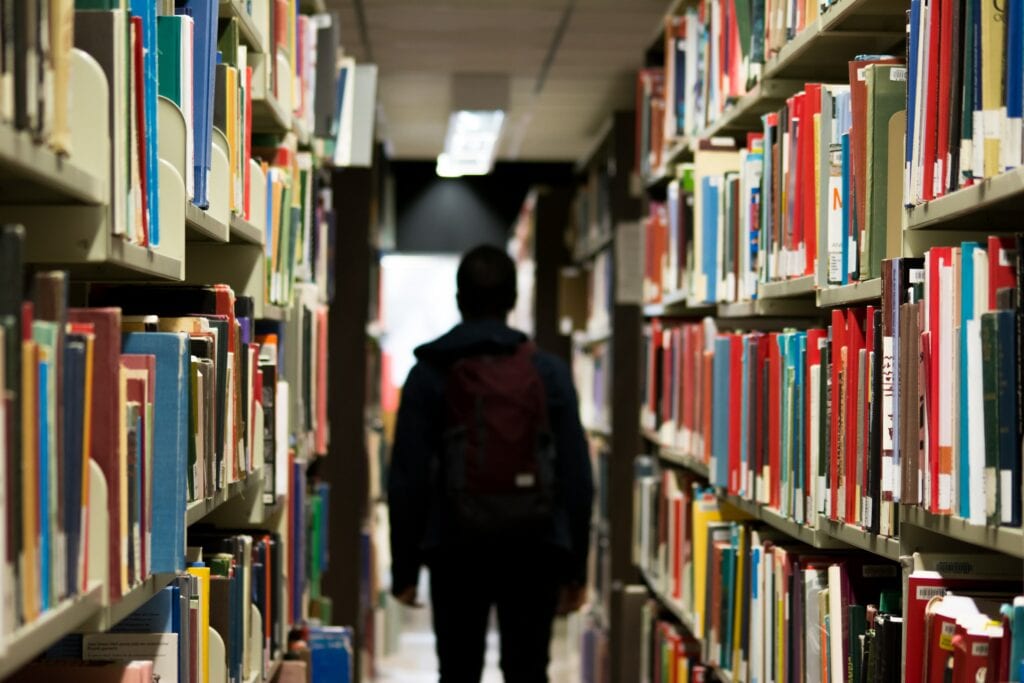 The next thing you need to consider is your level of English. You will need to take the IELTS test or an equivalent to prove you are proficient enough in the English language. Without this, universities will not accept you as there is no guarantee that you will be able to engage with the course satisfactorily.
Something else to keep in mind is that you will have to bring proof of how you will be paying for your studies. This is very important! As an international student, your VISA will not allow you to work more than a certain number of hours. In some cases, and depending on your course, you might not even be allowed to work, which means that you will not be able to support yourself financially. For this reason, you are required to have the necessary funds prior to starting your course. If you want to find out how much your course will potentially cost, click here.  
Next, you will select your course and university choices using the UCAS website. Make sure all the points above are considered before starting your application
Before you can submit your application, you will need to write a personal statement. Yes, ONE personal statement. This can be tricky since you're applying to multiple universities but it's definitely doable – thousands of students do it every year! We have a great example of a personal statement written by a student applying to Engineering at Oxford here, so don't forget to take a look at it, as this will help you have an idea of what is expected of you. If you're looking for more general advice on how to write a personal statement here are some top tips and common mistakes to avoid. 
All there is left to do is to pay the UCAS fee which is about £13 (US$18) if you are applying to one university only, or £24 (US$33) if you're sending your application to multiple universities.
How can i fund my degree as an international student?
As an international student, you do not have access to the same funding opportunities available to domestic students such as maintenance loans and student finance. As such, you will have to pay for your course yourself. This can be your parents, a bank loan or anything else. The main thing to retain is that you will not have any support for tuition fees from the university or the UK government.
Do I need a VISA to study in the UK?
To study in the UK, you will need a Tier 4 Student Visa. If you are only studying for a period of 6months or less, then this does not apply to you.
You can apply online, but you will have to get your photograph and fingerprints taken at an authorised visa application centre. There is also a fee to pay which is about £310 (US$435) for a Tier 4 Visa.
This will be followed by an interview in which you will be asked about your course, university, and financial means to support your education. This is all standard procedure, and it ensures that you will be able to enter the UK and remain for the rest of your course.
You can find more information about student VISAs on the UK Government website here.
How do i attend an interview if i'm an international student?
Depending on your course and university choice, you might be required to be interviewed by a member of the university. If you are applying to Oxbridge or Imperial College London, you will most likely be called for an interview, so it is always best practice to research before applying.
If the university you want forces you to have an in-person interview and you just cannot travel to do so, then perhaps you will need to change your university choices. However, the admission personnel are aware of the disadvantage this poses for international students. As such, for most of the courses, you will be given a chance to attend an online interview.
If you need some help with your interview, our programmes have dedicated tutors who will guide you through best practices and mistakes to avoid. If you want to find out more click here. 
As a last note, make sure to research before applying so you don't get caught off guard.
We hope this article gave you an idea of the admission process in the UK for international students. It is far from easy to apply to a university abroad but we are confident that if you consider all the points mentioned in this article, that you will be more than prepared.
Applying to university in the UK?
At UniAdmissions, we help students maximise their potential and get a place at their dream university. We provide this support to international students because we know how competitive it is and we are here to support you.
Enrol on one of our Programmes to triple your chances of success.