How to Choose a Cambridge College: The Ultimate Guide
So, you've come to apply for Cambridge, and UCAS asks you, "which Cambridge college?". Understanding how to choose a Cambridge college can be a daunting task.
I can remember I was thinking the exact same thing when I was applying.
So, to help you better understand the weird college system here at Cambridge, I have compiled a list of things to think about when choosing the right college for you.
How does the college system work?
Essentially, the Cambridge colleges are like mini-universities within the University of Cambridge. Each of them is independent of the other, but they are all affiliated with the university. Students will be attached to a college, so will be housed and looked after by that specific college.
However, when it comes to studying, the subject content will be taught in the subject department, where the college is irrelevant; all students of that course will attend the lectures together.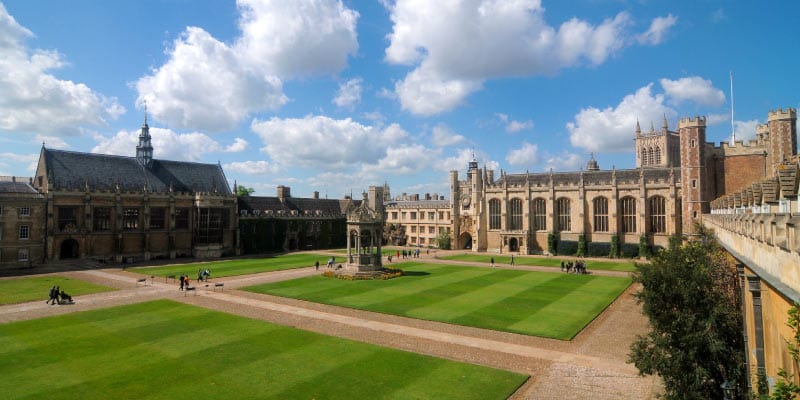 Does it really matter what college I choose?
First off, there is no need to panic, each of these colleges works in a similar way to the others, so the decision isn't THAT important. The differences between them are mainly niche traditions, location and 'how pretty they look'!
BUT there are a few colleges I will just signpost as being especially different;
Wolfson
Hughes Hall
St.Edmund's
These are all for mature students only, meaning if you are under 21, don't apply to these.
Then, there are the female-only colleges;
These only accept female students, so make sure you think carefully – if you're a woman – if this is something you would prefer.
Looking for application support to help you receive your dream Cambridge offer? 
We help you craft the perfect Personal Statement, achieve a highly competitive Admissions Test score and teach you how to Interview effectively – covering all areas of your Cambridge University application from History to Medicine.
Discover our Oxbridge Premium Programmes by clicking the button below to enrol and triple your chances of success.
Also, there are some colleges that are not located in close proximity to the centre of Cambridge, which means a bike will definitely come in handy. This also means you won't be near the centre of life in Cambridge.
Whilst that can be quite nice, it can also be isolating, so bear this in mind. The colleges that are located outside the centre are;
Fitzwilliam
Murray Edwards
Churchill
Selwyn
And, furthest away, Girton
There are also some colleges that don't do particular subjects, so make sure to double-check whether or not the course you have picked is done at your college. In effect, no, it doesn't matter what college you pick, you just need to bear in mind some have specific criteria for applicants, and some are deceptively far from the town centre.
What should I consider when choosing a college?
Whilst all colleges will provide you with accommodation throughout your undergrad, it's worth looking at where exactly this is. Just because you pick a central college doesn't mean its rooms are all in the middle of town. A lot of second-year accommodation is a bit further out, so if location matters to you or if you're not planning on cycling, this is worth investigating. Cambridge is a small place and pretty much everything is within walking distance, but a twenty-minute walk compared to a five-minute saunter can get annoying.
You should also look at how your chosen college ballots its rooms. Some colleges give priority to students who do well in exams, whereas others just use a random ballot system. Not all colleges price their rooms via the same system either – some offer more high-end options whereas others charge the same rate regardless of the quality of the room.
Emmanuel does your laundry for you. Girton has a pool. Clare has some of the prettiest grounds in Cambridge (I may be slightly biased on that one). The point is, you should think about what's important to you in terms of your living experience. Not all colleges have a gym, and the ones that do vary a lot in quality, for example, so if that's something you care a lot about then you should make sure you know what to expect from the college you choose.
Similarly, the self-catering facilities vary a lot from college to college, from "just a toaster and a kettle" to ovens. If you're an aspiring Great British Bake Off candidate, or just don't really see yourself eating in halls much, you want to make sure you're not going to be disappointed.
Extra-curricular activities
Passionate about music, or a certain kind of sport? Whilst most colleges will cover the majority of bases, they do so with varying degrees of success. Some colleges are more musical whilst others are more sporty. It's worth checking league tables and past results if you see yourself as being competitive at the college level in your sport, and similarly, if you want to do things like sing in your college choir, you should look up what the required standard is (though it is possible to join a college choir other than your own).
Some colleges are much richer than others, and whilst this doesn't really impact your day-to-day experience at Cambridge, it can make a difference if you find your funds are running low. Academic prizes, sporting prizes and bursaries vary hugely between colleges. I've certainly had moments where I've been jealous of the awards my friends at other colleges have received!
Top Tips on How to Choose a Cambridge College:
Check how close it is to your subject department.
Take a look at the Cambridge colleges map, the closer it is, the later you can wake up to get to lectures!
Check the location of their accommodation.
Some colleges don't house students on site, and you can find yourself living nowhere near the college, so make sure you check this.
Check the quality of their accommodation.
Some colleges have really good accommodation, and some are known for having terrible accommodation. Make sure you thoroughly check out the accommodation on offer at the college by going on the college website.
Check the location of the college.
How close is it to a food shop? How close is it to Cambridge itself?
Go on the college websites.
Check out what the buildings are like, if you feel you like it etc. Trust your instincts!
Check out the societies at the college.
See if they take your fancy and if you would be interested in joining them.
Remember that it is possible you get placed into a pool.
This is where the college you applied to doesn't accept you, but they think you should be at the university. As a result, it places you in a pool where other colleges can pick you out. Here's one student's experience of the winter pool.
So, hopefully, you feel a bit more comfortable and better equipped on how to choose a Cambridge college. Essentially, it doesn't matter that much. Have a good look at accommodation, location, and student support, but at the end of the day, it is your choice. Nobody can, or indeed should, make the decision for you because this is where you are going to be living for the next 3 or 4 years.
Just go with your instincts and trust me when I say that whatever college you decide upon, you will love it, so don't worry!
So you're set on studying at Cambridge but are you prepared for the Admissions Tests and Interviews? We'll help you get there.
Our expert Cambridge tutors provide the support you need to gain your dream place. How? We help you craft the perfect Personal Statement, achieve a highly competitive Admissions Test score and teach you how to Interview effectively – covering all areas of your Cambridge application.
Discover our Oxbridge Premium Programmes by clicking the button below to enrol and triple your chances of success.