Gaining medical work experience is a vital component of your medical school application.
Getting relevant work experience will help you decide whether pursuing a career in Medicine is right for you, and will give you an insight into the working life of a doctor. More importantly, undertaking medical work experience shows medicine admissions tutors that you are truly committed to the field and are willing to take the time to further your learning.
By going through medical work experience, you will able to see first-hand the day-to-day work a doctor goes through. In turn, you'll be able to speak about your experiences and insights gained through your work experience in your Personal Statement and medical interviews. The most important aspect of your work experience is not simply attending and logging the hours, but having deep reflection of your time spent experiencing the job. Medical schools aren't interested in the amount of work experience you have managed to obtain, but the quality of the reflection you've attained.
The issue for many students is not that they aren't willing to spend the time at a medical work placement, but that medicine work experience can be difficult to attain. If you are the first person in your family to go into the medical profession, or do not have any family or friends working in the medicine field, it can be hard to get a foot in the door.
Not all medical work experience is the same – here's the hierarchy of medical work experience you could undertake >>>
How do you get medical work experience?
There are some steps you can take to improve your chances of gaining good medical work experience such as;
If you're unable to get work experience through these options, don't worry, there is a newly released platform that allows you to gain a virtual work experience and show your interest in the field without having to physically be there. With the current COVID-19 pandemic, students will be unable to attend work experience that they've arranged in 2020, so virtual medical work experience is the way forward for many candidates. Enter Observe GP.

What is Observe GP?
Observe GP is a virtual alternative to work experience for medicine applicants in the UK. It is an interactive video platform which houses a set of pre-recorded videos in a GP surgery. The videos show the roles of various team members who work at the surgery, such as the GP themselves, the practice manager, receptionists, advanced nurse practitioners and a GP trainee. The videos are interactive, meaning that viewers will be asked questions and see key terminology appear on the screen. In order to continue, you'll need to answer correctly. Think of Observe GP as somewhere between an online course and a day-in-the-life video.
Alongside the video platform is a reflection diary which explains the platform in-depth and provides you all the tools for reflection about the process. As mentioned, this is the most important part of the platform and will be where value is added to your medical application. To get the most out of this platform, you should be diligent with your reflection diary.
Does Observe GP actually provide realistic medical work experience?
UniAdmissions is a company founded by two Cambridge medics who are now fully qualified doctors. Dr Rohan Agarwal, one of our founders, found the platform to be extremely valuable and a worthy addition to any medical school applicants' portfolio of learning. The scheme is backed by many respected medical bodies and supported by lots of top UK universities who understand the cause behind the creation of this platform.
Although the content is exactly the same for every user who goes through the platform, the reflection and questions that crop up in their mind should differ from person to person. You'll find that two medical candidates who watch the same video, will likely be asking completely different questions at the end. It's up to you to do further research into the elements that interested you personally.
How to write a successful Personal Statement for Medicine >>>
How should you use Observe GP?
You should be taking notes through use of the platform and going over the principles taught to you through the videos. For example, the first video stresses the importance of patient confidentiality and trust. Think about how the GP is gaining a patients trust through their various consultations, or what kind of information would fall under patient doctor confidentiality.
To get the most out of Observe GP,  you could first visit the General Medical Council website and read the "Good Medical Practice" guide. The Good Medical Practice guide is something every doctor in the UK abides by. Reading through the document will give you a solid understanding of the ethics and skills doctors must have, which will give you a great foundation for your future medical career.
Apply the principles and concepts you discover through the Good Medical Practice guide to Observe GP.
Consider the following questions when working through the platform and remember to fill out your reflection diary;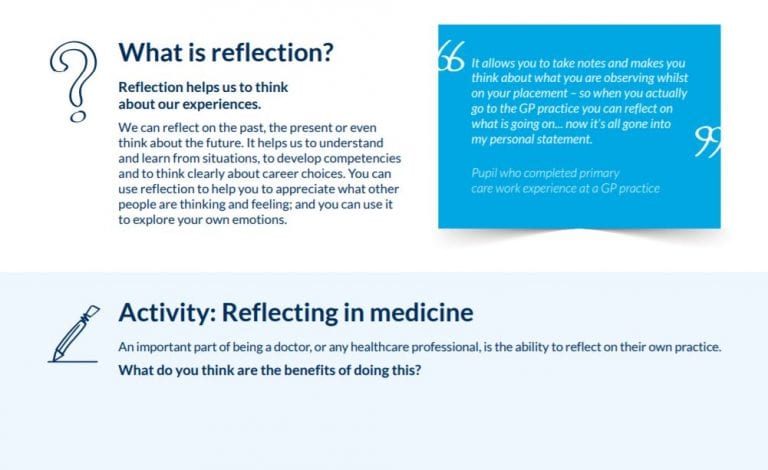 Do you get a certificate of completion or accreditation at the end?
Unfortunately, there isn't any certificate of completion from going through the Observe GP platform. The reason for this is because medical work experience isn't a tick-box exercise. It requires an interest in learning and understanding what you've learnt – a certificate wouldn't show that. That's what the reflection diary is for.
[INFOGRAPHIC] The ultimate medical application infographic >>>
What are you waiting for – get started with Observe GP!
Whether you have already found work experience or are struggling to arrange anything in time for your medical application, UniAdmissions would strongly recommend that you check out the Observe GP platform. For example, if you've already completed work experience in a hospital setting, this will give you a completely fresh perspective on another side of the NHS.
The platform is free to use for all students over 16 in the UK – there's no reason why any aspiring medical candidate wouldn't be able to work through the system and put themselves on equal standing with their cohort. It's something we certainly wished existed when we were going through our medical school applications, so make use of it now that it does exist!
UniAdmissions provide expert support for medical applicants in the UK – last year
83% of our students gained a medical school offer.
That's 7x the national average of 12%. We are able to achieve such high rates of success through our comprehensive Medicine Programmes. They're designed from the ground up to get you your dream offer.