We will continually be updating this page with the latest information for students about their exams, university applications and more.
28/08/20
Due to the continued pressure of COVID-19, Cambridge Admissions Testing have taken further measures to run Admissions Tests in 2020 in safer ways.
To do this, various Admissions Tests have been moved to be a day after their scheduled test date.
Some Admissions Tests will also be taken on a computer instead of pen and paper as they have historically been taken.
The table below shows you exactly which tests have seen changes;
4 November 2020
5 November 2020
BMAT

The BMAT will be taken at a test centre as normal, however, candidates will take the test on a computer in 2020.
CTUMUA

The CTMUA will be taken at a test centre as normal, however, candidates will take the test on a computer in 2020.
CAT
ECAA
ELAT
ENGAA
MAT
HAT
MLAT
NSAA
OLAT
PAT
Philosophy Test
TMUA

The TMUA will be taken at a test centre as normal, however, candidates will take the test on a computer in 2020.
TSA

The TSA will be taken at a test centre as normal, however, candidates will take the test on a computer in 2020.
TSA (Cambridge)

The TSA (Cambridge) will be taken at a test centre as normal, however, candidates will take the test on a computer in 2020.
15/08/20
A-level grades have been released with many students missing the required grades for Oxford and Cambridge. Both universities have released statements on how they plan to accommodate for the A-level results this year.
Oxford
"The University and colleges have been proactive in considering applicants who didn't make their grades this year, focusing strongly on those in disadvantaged circumstances. As a result, over half of students who missed their offers have now been admitted. In particular, we have considered carefully and been more lenient with students from UK state schools who missed their offer; overwhelmingly these students are from disadvantaged backgrounds or have mitigating circumstances."
Source: https://www.ox.ac.uk/news/2020-08-15-university-statement-2020-admissions
Cambridge
"We have committed additionally, however, to admit any candidate whose A-level grading appeal is successful, meaning that they achieve the level required in their offer. (We hope that many students who might have appealed will not have to do so, as we will have already admitted them on a discretionary basis.) If any appeal is successful, and is decided before our spaces are completely full, we will offer that student a place for this year. If the appeal decision comes too late, but is successful, we will offer a place for next year. Likewise, if a student meets their offer following their taking examinations this autumn, their place will be confirmed for October 2021."
Source: https://www.cam.ac.uk/coronavirus/news/statement-on-2020-a-level-results-and-cambridge-university-admissions
01/06/20
BMAT
Cambridge Assessment Admissions Testing (the examination board that administers most university admissions tests) have announced that the September BMAT session will not be going ahead.
Candidates booked onto this session should change their booking to November and confirm whether the university they are applying to will accept this as an alternative.
Source: https://www.admissionstesting.org/campaigns/coronavirus/
UCAT
UCAT booking opens on the 1st of July 2020 with testing now running between August and October.
Candidates will be able to take the test at home due to limited test centre availability.
20/05/20
The University of Cambridge have announced that there will be no face-to-face lectures over the course of the next academic year due to Coronavirus.
They say it might be possible to host smaller teaching groups in person, as long as social distancing measures are in place.
17/04/20
Grades for cancelled GCSEs and A-level exams in England, Wales and Northern Ireland will now be published on their original planned results days.
As planned, teacher assessments will be the basis of the grades awarded.
03/04/20
For exams that were due to be sat in summer 2020, schools and colleges are being asked to provide assessment grades for their students. These should be "fair, objected and carefully considered judgements of the grades the students would have been most likely to achieve".
The following information is required to be submitted by schools:
a centre assessment grade for every student in each of their subjects: that is, the grade they would be most likely to have achieved if they had sat their exams and completed any non-exam assessment. Judgements should balance different sources of evidence such as:

classwork
bookwork
any participation in performances in subjects such as music, drama or PE
any non-exam assessment – whether or not complete
the results of any assignments or mock exams
previous examination results – for example, for any re-sitting students or those with relevant AS qualifications
any other records of student performance over the course of study

the rank order of students within each grade for each subject – for example, for all those students with a centre assessment grade of 5 in GCSE maths, a rank order where 1 is the most secure/highest attaining student, and so on. This information will be used in the statistical standardisation of centres' judgements – allowing fine tuning of the standard applied across all schools and colleges
a declaration from the Head of Centre making the submission
Source: https://www.gov.uk/government/news/how-gcses-as-a-levels-will-be-awarded-in-summer-2020?fbclid=IwAR12LCwkztT14vuusmPJaSzsZJOn9chwBR9twCWMffIvaDqnY8YAcUJ5ILw
Ofqual have stated that the ranking system will consider the expected national outcomes for students, however, it will not assume the distribution of grades in each subject will be the same.
27/03/20
UCAS have made the decision to extend deadlines given to universities and students about their university applications.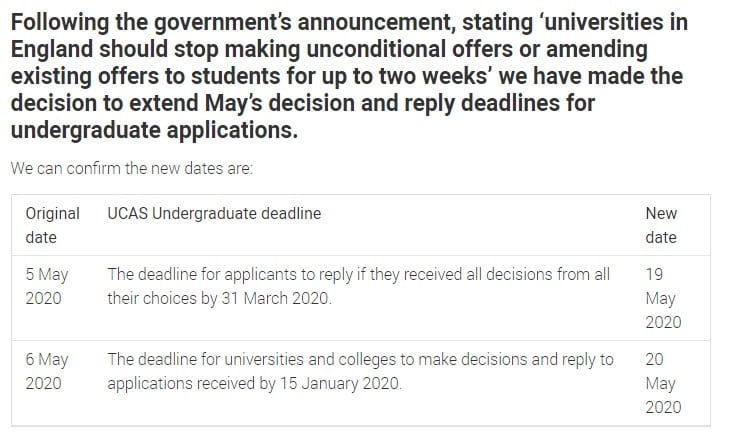 23/03/20
An open letter to all applicants from Universities UK and UCAS has given applicants more clarity on the current situation.
As many exams have been cancelled, grades will be awarded based on the following criteria:
Previous attainment, including GCSEs and mocks
Non-exam assessment (course work)
The grade your teachers believe you would have achieved had exams gone ahead
These grades are due to be released before the end of July. There will be an option to sit an exam at a later date if you feel the grades do not reflect your performance.
The letter also clearly states that "Places are not decided on grades alone. Information in your personal statement and reference are part of the decision-making process along with your interview, portfolio, audition and any other information that's relevant to your potential to succeed on an undergraduate course.".
This is something we have always been aware of but as have predicted, admissions tests are very likely to play a larger role than ever before.
Information from: https://www.universitiesuk.ac.uk/news/Pages/Update-from-UCAS-and-Universities-UK-.aspx
20/03/20
As it stands, admissions tests are still set to run so we'd recommend you continue your preparation as you normally would!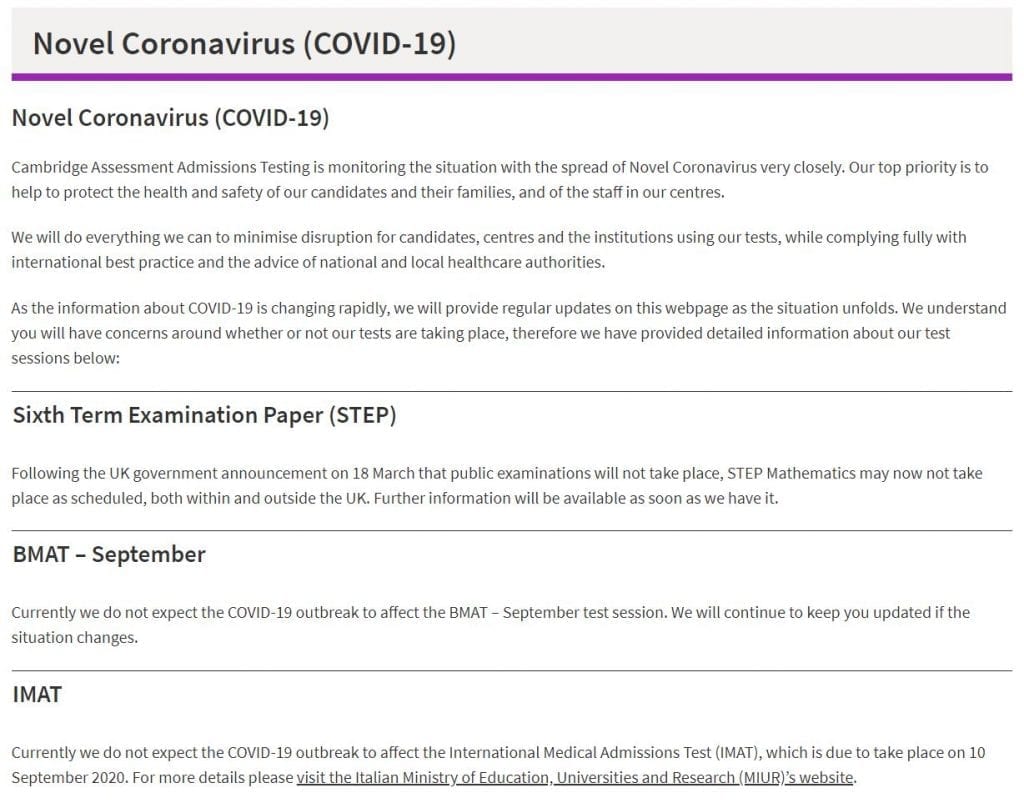 19/03/20
In light of the current challenges the entire world is facing with the spread of the Coronavirus, we here at UniAdmissions want to assure you of a few things:
We are a company that has the processes in place to provide 100% of our normal services remotely. We promise that, whether you are already enrolled on a tuition programme or were thinking about doing so, the quality of service you'll receive is completely unchanged from normal.
The safety of students and tutors who work with us is of utmost importance. Because of this, in-person tuition sessions will now be conducted online temporarily.
We have urged all of our staff to work from home and follow government instructions. As with our students and tutors, our staff mean a lot to us so we'd very much like to keep them safe!
Finally, with the announcement of school shutdowns and calling off GCSE and A-level exams – admissions tests will become an even more vital component of your university application. Universities will have no choice but to work off the grades you get in these exams.
On a more personal note, we'd urge you to heed the advice given to us by the government. Whilst you may not be at risk to the virus, it's the vulnerable people around you that you need to be thinking about.
Stay safe and stay healthy!
Want to chat to our team about anything you've read or want to discuss how an existing or new programme will function?