Description
Online Medical Interview Course
Triple your chances of Medical interview success*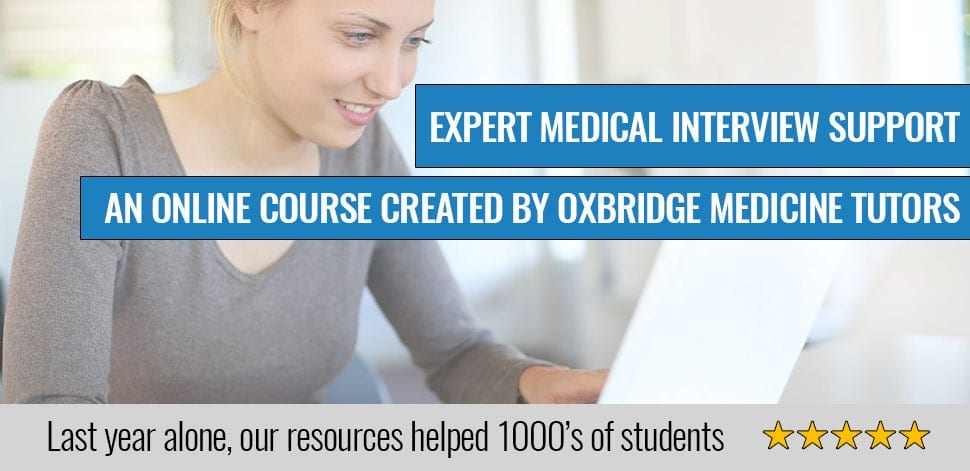 2 eBooks, 300 Questions, 40 Videos. Anywhere. Anytime.
Triple your chances of Medical interview success, with our Online Medical Interview Course, study at your own pace in the comfort of your own home. You will be taught vital techniques and strategies to answer commonly asked interview questions. All videos include tutoring from Oxbridge Medicine graduates who scored in (at least) the top 10% during their year of admissions testing. With the course, you'll also get unlimited access to a dedicated medical tutor until your interview.
The course outline focuses on key areas and includes 6 hours of videos, 2 full eBooks and unlimited ongoing tutor support.
Get immediate access to the  Medical Interview online course and free resources
Master the medical interview everything you need to increase your chances of success!
Ongoing Support
We offer you access to your expert tutor till the day of your interview so you're never alone or stuck
Free Medical Interview Ebook
The Ultimate Interview Guide is a 300+ page book with first hand advice from experts and over 150 past interview questions
All styles of Questions Covered
Medical Ethics & Situation Based Questions
Over 40 Videos to Watch
Includes Oxbridge & MMI Style Questions
About our Medical Interview Online Course
You will get access to 2 eBooks, 300 questions and 40 videos with unlimited access to a dedicated medical tutor until your interview.
99% 5 STAR REVIEWS
Students and parents rated our online courses 'excellent' last year.
TRIPLE YOUR CHANCES OF SUCCESS
Last year approx 73% of the medicine support we offered resulted in a successful University placement. That's 3 x the national average.
600+ SATISFIED CUSTOMERS
Over 600 students have used the our online course for their preparation
You can start as soon as you checkout. You'll be automatically emailed all the resources and can start studying with the online lectures straightaway.
Throughout the course, you'll get access to a dedicated Interviews tutor who will be responsible for answering all your questions. If you ever get stuck, they'll be able to help you.
Most people are able to go through the course in two weeks. You can obviously do it quicker but it's important to not rush it – take your time and make use of all the available resources to ensure you get the best possible mark.