Why Oxbridge Interview Coaching is the Way Forward
Deciding whether to get Oxbridge interview coaching is an important step to success. The statistics speak for themselves! When it comes to the questions of whether your child needs Oxbridge interview coaching or not you should always consider the latter. And here's why…
WHAT DOES OXBRIDGE INTERVIEW COACHING INVOLVE?
That depends on the package that you and your child think will suit them best. However, all Oxbridge interview coaching will involve dedicated individual teaching that is tailored to your child's strengths and weaknesses.
Students are tutored by people who know what they're talking about. These can be current students who took the same interview as your child and know all the tips and tricks to help your child secure a place. They could also be interview coaches who are either current or ex-tutors at Oxbridge and are best placed to help your child delve into the mind of an admissions tutor!
You can generally customise your package with the number of hours of Oxbridge interview coaching you and your child would like to have, which you can discuss with the course provider if you're unsure as to where to start.
OXBRIDGE INTERVIEW COACHING STATISTICS
Oxbridge interview coaching can be a way to give your child the advantage over the thousands of other students applying for their dream course at the two prestigious universities, Oxford and Cambridge.
UniAdmissions Oxbridge interview coaching statistics really do speak for themselves about the benefits of this kind of tuition:
In 2017, the national average admissions rate for Oxbridge entry was 18%, but UniAdmissions' success rate was 63%! Interview coaching will triple your child's chances of making a successful application to Oxford or Cambridge University, allowing them access to a world-class, well-respected education.
In case you need any other incentives to get your child Oxbridge interview coaching, read on!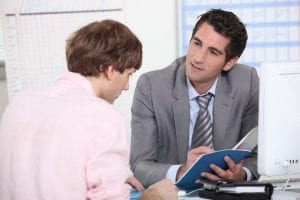 PRACTICE
Even if your child has been lucky enough to have experienced lots of interviews before, it's very unlikely that they'll have ever gone through anything like an 'infamous' Oxbridge interview.
The specific format, tricky questions, and high expectations mean it's difficult to prepare for an interview without some inside knowledge. Oxbridge interviews usually ask particular kinds of questions which are sometimes designed to have no answer – their aim is to see the way you think. This means that you can't pre-prepare answers like you might do to normal interview questions that you've found online. Interview coaching can help with practicing the skills your child needs to be able to answer any question thrown at them!
BE PREPARED
Oxbridge is very well known for throwing curve balls in their interviews, to see whether you can think on your feet. Although this is a natural thing that some people have and some don't, it's also something that you can train. With the right training, your child will feel more comfortable if they end up in a situation they haven't prepared for in the interview.
Oxbridge interview coaching helps refine the skills your child needs to be able to think on their feet. For instance, by using what they do know to answer questions that might not immediately seem answerable, such as "How long is a piece of string?"
GET AN EDGE
As mentioned, thousands of students apply to Oxbridge, and while every parent likes to think their child is special, Oxbridge might need to be shown that they're better than other potential students. Your child can do this in the interview, which means they need Oxbridge interview coaching to show them how to perfect their communication techniques and give the admissions tutors what they're looking for.
HONEST FEEDBACK
Oxbridge interview coaching can also be a great chance for your child to gain skills they can use past their university applications, throughout their life. For instance, interview coaches can give personalised, honest feedback about interview performance – something which you won't get after the real Oxbridge interview.
They can also help your child work on nervous ticks they might have that may serve to give a less than strong impression to the interview. For example, perhaps your child "umm"s and "aah"s so much when they're nervous that their overall idea gets lost. While critique can seem harsh, we all know it's the best way to improve, and improvement before an Oxbridge interview can only be a good thing!
A QUESTION OF STYLE
Oxbridge interview coaching can also help with the feel of the interview through mock scenarios and encourages students to be more natural. Oxbridge tutors have said in the past that they can smell someone who has been coached a mile off, and they tend not to look kindly on these candidates! The trick is to not rote learn answers to questions, but rather to practice skills and the situation until it becomes second-nature to your child. The right interview course can help with this!
WHICH INTERVIEW COACHING PROGRAMME DO I CHOOSE?
There are lots of different coaching programmes out there that claim to better your child's chances of making a successful Oxbridge application, so how do you know which is the best interview course to choose? You should look at success rates.
As mentioned in this article, UniAdmissions has an excellent success rate, with 63% of students securing a place. You can find a list of all the available programmes UniAdmissions offers here. You can choose whether to go for just the interview coaching or have it included in a package to support your child throughout their whole Oxbridge application.
Ultimately, extra Oxbridge interview coaching is never a bad thing, as it can only help your child improve their chances of gaining the place of their dreams.
Choose a Coaching Programme at UniAdmissions
At UniAdmissions, there's not just one interview coaching programme! We've created a number of bespoke interview programmes dedicated to each individual student and the subject they are looking to study. That means your child won't be given the same spiel as everyone else- thankfully! Instead, they will get tailored support, advice and mock interview scenarios based on their subjects. For the full list of interview tuition courses click here.
If you have any further questions, don't hesitate to get in touch.
Prepare for the Interviews Sooner than Later
It's always a good idea to give enough time in preparing for the interview. We believe in preparing for the interviews (especially to Oxbridge Universities) sooner than later. It's never too early to start, in fact! It's why we run interview courses online and face-to-face in the weeks leading up to interview season to get you ready. And here's why you should start preparing early…