The Ultimate Oxbridge Interview Guide
Fully Worked Solutions
Detailed answers to over 200 questions with expert analysis and commentary
Over 300 Pages
More than 900 real interview questions that our tutors were asked in their interviews
Covers 18 Subjects
Includes contributions from experienced Oxbridge tutors with first hand interview experience
"How many grains of sand are there in the world?"
"Why is DNA like sheet music?"
"Can you hear silence?"
These are examples of Real Questions that were asked in the 2014 Oxbridge interviews. Stumped? You don't need to be!
The Ultimate Oxbridge Interview Guide contains over 900 Oxbridge Interview Questions that have been asked over the last 5 years for 18 Subjects. Written for 2018 Entry, it provides Fully Worked Model Answers for over 200 of these and guides you through the topics and problems that each one raises.
With contributions and advice from over 40 Specialist Oxbridge Tutors, this is your Ultimate companion to the Oxbridge Interview and a MUST-BUY for those who have an upcoming interview at Oxbridge.
Subjects Included: Medicine, Biology, Psychology, Chemistry, Material Science, Earth Sciences, Physics, Engineering, Maths, Economics (& Management), English, History, Geography, PPE (Philosophy, Politics, Economics), HSPS (Human, Social and Political Sciences), Classics, Law, Modern languages (French, German, Spanish, Italian, Portuguese).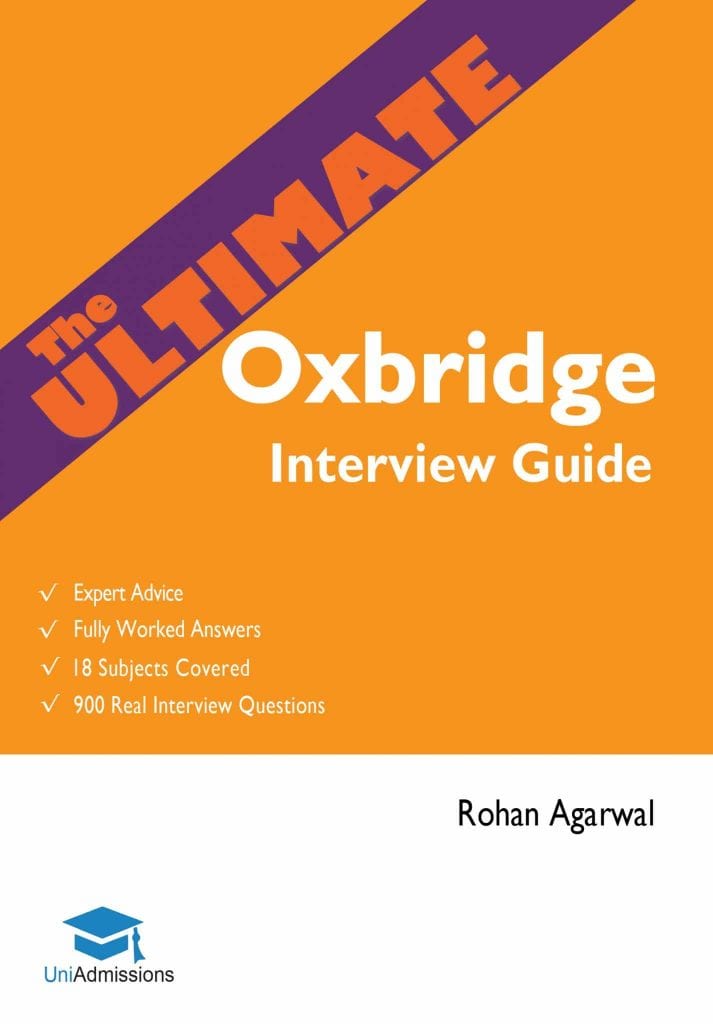 Matt, Professional Oxbridge Entrance Coach -
The sheer number of questions in this book is just mind-boggling. The author manages to squeeze so much information into just under 300 pages resulting in a very helpful yet succinct book. A must for any Oxbridge hopeful.
Sophia, 1st Year History at Oxford -
Concise, informative, and an extremely good representation of what my interviews were like.
Rose, 1st Year Cambridge Medicine -
I was really scared about my Cambridge Medicine interview because of all the horror stories I'd heard. Not only did this book reassure me, it gave me some excellent ideas on how to cope with unexpected questions. I even got asked one question that was in this book!
The Ebook is emailed automatically after checkout. Paperbacks are posted within 5 working days.