Description
Over 250 Pages
The LNAT book contains 400 Unique Practice Questions with Fully Worked Solutions
Score Boosting Strategies
Powerful tips and techniques to allow you to answer questions more quickly and accurately
Fully Worked Solutions
Detailed answers to all MCQs so you can see the best ways to approach every question
Published by the UK's Leading Medical Admissions Company, The Ultimate LNAT Guide is the most comprehensive LNAT Book available. Written for 2018 Entry, this fully up-to-date book contains powerful time-saving strategies that will allow you to answer difficult questions quickly as well as 400 Practice Questions written in the style and difficulty of the real exam. Each question also comes with Fully Worked Solutions that guide you through the best way to get the correct answer as quickly as possible.
The book is an excellent resource as it trains you mentally to identify tricks to skill, traps to avoid and techniques to master for the real exam.
With contributions and advice from Specialist LNAT Tutors, this book is your ultimate companion to the LNAT and a MUST-BUY for those looking to do well in the exam.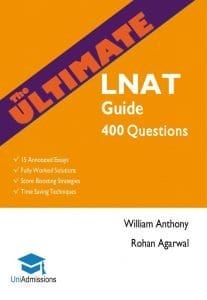 Read what Amazon's customers say about the Ultimate LNAT Book

This book helped me prepare for my LNAT a lot, it provided loads of insightful questions along with the answers as well as immaculate essay prep and I would definitely recommend it, especially if you need a background to the set up and timing in the exam.

The material is well written and up to date. The range of material is wide and so much depth in answers. Lots of questions to master your skills and speed up.

The best book out there for LNAT prep. There are many practice questions which were very similar to the actual LNAT test questions.

The LNAT guide has a great layout with clear and helpful advice for test day and a worked explanation to both essays and questions to help clear up any misunderstanding on any of the questions attempted which is so, so useful. The authors clearly have a lot of experience within the admissions field.

Very helpful book! Has really aided in my preparation for my LNAT exam and I have gained many good skills. It is very good due to the large amount of questions which help you revise and the essay examples have helped me know how to structure my Section B answer.

After a lot of research and seeing the books my friends have used, I really recommend this book as I honestly think it is the best preparation. The questions resemble the real ones used in the LNAT and the advice is really useful. This book is essential for anyone seriously considering applying for Law.
Buy the Ultimate LNAT Guide
The Ebook is emailed automatically after checkout. Paperbacks are posted within 5 working days.