Description
BMAT Past Papers and Worked Solutions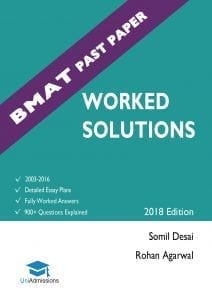 Detailed Essay Plans
Essay plans to help you boost your scores
Every Paper Covered
The only book with all the BMAT past paper questions with worked solutions from 2003 onwards
Fully Worked Solutions
Includes formula sheets
The BMAT past papers for years 2003-2017 are freely available online. However, to save you the trouble of downloading lots of files, we've put them all into one easy-to-access downloadable folder for you. You can access this folder here.
Since the BMAT past papers don't come with solutions, we've written 'BMAT Past Paper: Worked Solutions' – written for 2019 Entry, it's the only book devoted to helping you solve past BMAT questions. It contains detailed explanations for every question from 2003 – 2016 as well as comprehensive essay plans for section 3.
These solutions contain valuable insight on how to approach difficult questions and also walk you through the most efficient methods for rapidly getting the correct answer. Filled with examples of time saving techniques and score boosting strategies, this is a MUST-BUY for anyone using past papers as part of their BMAT preparation.
We highly recommend getting BMAT Past Paper Worked Solutions to aid your revision and check your answers.
The solutions provide a valuable insight on WHY answers are what they are. You will understand the methodology of reaching the answer and learn powerful time-saving techniques in the process. We'd highly recommend buying BMAT Worked Solutions alongside downloading the Past Papers.
Read what Amazon's customers say about the BMAT Worked Solutions

Very helpful book. It made revision much easier as I was instantly able to find the solutions to BMAT questions that I was stuck with.

This saved me from having to look through long pages of forums to find an unclear answer. Although I didn't get around to finishing all of the questions in the book, it was definitely reassuring knowing that if I ever ran out of the BMAT past papers there was another resource I could turn to…

This book is a great place to start for BMAT revision, the essay section is very detailed and they have complied past papers into one folder for you (online), which is so helpful!