LNAT TUITION
The Ultimate Level of LNAT Support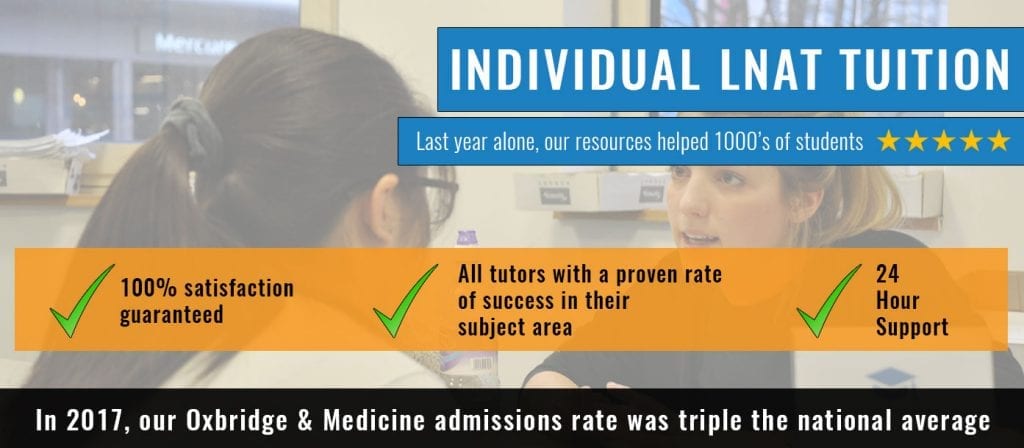 How LNAT Tuition will Improve your LNAT Score
The Ultimate level of support – LNAT Tuition allows you to control the pace, content, and difficulty of the tutorials. You'll get one-on-one time with an expert LNAT who scored in the top 10% nationally. They'll be able to focus on your strengths & weaknesses to ensure rapid improvement. You'll also get instant access to all of our LNAT resources like online lectures + mock tests so you can start preparing straight away whilst we set up your tutor for you.
These sessions are a two-way process and the more you put in- the more you'll get out. Students who tend to improve the most are also the ones who persistently ask their tutor for focus on their weaknesses, week after week! We asked our LNAT tutors to give some examples of past sessions that they've conducted to give you ideas about what is possible.
Why Choose UniAdmissions?
With UniAdmissions, you'll get one-on-one time with an expert LNAT tutor who scored in the top 10% nationally during their LNAT year and has a proven rate of success in LNAT tuition. With every tuition package ,you'll get a money back guarantee, meaning that in the unlikely event that you're unhappy with our tutors – we will refund your tuition fees. You'll also get instant access online to all of our best-selling LNAT resources including video lectures, 6 LNAT mock tests and The Ultimate LNAT Guide allowing you can start work on improving your LNAT score straight away.
*Tuition is available in person or online.
Speak to our Admissions Team to learn more about how you can triple your chance of success!
Includes Free LNAT Resources Written by Experts
Available online immediately after booking your tuition package.
Online Lectures
6 hours worth of Online lectures that you can watch and re-watch to learn key strategies + concepts
Ongoing Support
Email access to your expert tutor until the day of your exam so you're never alone or stuck.
Free E-book
Our best selling LNAT Ultimate guide packed with 400 practice questions and advice
Full Mock Papers
4 mock papers written by experts who scored in the top 10% and with years of teaching experience
Triple your Chance of Success
Our proven methods of tuition make all the difference! Last year our admissions success rate was triple the national average.
About UniAdmissions LNAT Tuition
Meet your Expert UKCAT Tutors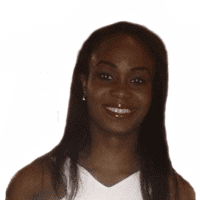 MELODY
Melody graduated from Balliol College, Oxford, in Law in 2015, where she was awarded the Brackenbury Scholarship for academic excellence and the Alan Rodger Prize in Roman Law. She was a tutor for Oxford Summer Academy, teaching taster classes, interview and LNAT preparation and dedicates as much time as possible to mooting competitions at Oxford.
In her spare time, Melody enjoys running a food, culture, philosophy and fashion blog and also writes piano compositions.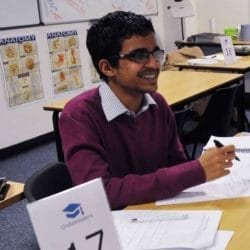 WILL
Will graduated in Law in 2015, from Downing College, Cambridge. His primary role is as a personal tutor, working with Oxbridge candidates through the application process and is proud author of the Ultimate LNAT Guide which has sold thousands of copies globally. He is keen to help others gain the same opportunities he has been afforded and enjoys working with aspiring law students from all backgrounds. In his spare time, he enjoys road cycling and keeping up with legal developments.

BIANCA
Bianca read Law at Balliol College, Oxford and graduated in 2017 with Honours, going on to complete her Professional Bar Training at City University, London, she is now a member of the Honourable Society of Lincoln's Inn. Bianca has great experience in guiding students through all the stages of their applications, and has tutored for companies all over the world. In her free time, Bianca represented the University in the Blue Ballroom Dancing team in inter-university competitions around the UK.
Offers from Glasgow and King's College, London
Henry's way of teaching suited me perfectly – I can finally write good LNAT essays now! Thanks!
Orin was very knowledgeable. She knew exactly what she was talking about and I used most of her tips to help me through the LNAT … thank you
Offers from Oxford and UCL
Melody was fantastic – she demystified complex passages and made sure I understood them before moving on.
The LNAT essay is frequently neglected by lots of students, normally because they don't like writing essays and have never really been taught how to do so. The essay is actually quite straightforward and easy to do well on if students follow a routine. Before the session, I ask the student to write a timed essay and bring it with them. This allows me to gauge their level and pitch my teaching appropriately. We use their essay as an example of good and bad things- e.g. how much space is used to answer each part of the question, the strength of the introduction, breadth vs. depth of argument. I stress to them the importance of planning essays and we then plan several essays together. We then conclude by examining good and bad introductions and conclusions to the same essay title so they can see the impact of starting and finishing an essay well. I finish by setting them 2 further essays to do at home which we review in the next session.
Linda, LNAT Tutor
You'll get 4 full LNAT Practice Papers and our exclusive LNAT Bookthat has 400 practice questions and advice from our expert tutors. Finally, you'll also get access to LNAT On-Demand: our online lecture series.
Usually in a location that's convenient for you and your tutor in Central London. We also have tutors based in Cambridge and Oxford. If you're not near these locations, you can get tutoring via Skype.
"One common scenario that frequently crops up is struggling with critical thinking. To start off, I first go over what each of the important keywords mean e.g. Assumption, Flaw, Conclusion etc. Then we start by looking at relatively simple examples and then slowly build into harder ones. I point out key words that are usually 'hidden-away' in the passage that often change the answer and then we examine more difficult questions (usually of a greater length). When they start getting these right, I do timed drills to see if they can use the skills they've acquired under time pressure. This does wonders for confidence and I finish the session with some homework that includes more critical thinking questions which we review in the next session."
Megan, LNAT Tutor
Absolutely, and we'd encourage you to do so. Make sure you give your tutor enough notice (at least 5 days) for them to prepare the appropriate materials.
Of course! We're here to support you- not just on the course-day but until you've finished your LNAT Exam. You'll have email access to your tutor whenever you need it.
Book online or speak to our team