Medical School Interview Tuition
Bespoke Expert Individual Tutoring
The key difference between private tuition and our interview courses is that you control the pace and content of the tutorial. This means that it pays to be organised- avoid turning up to the session without having done at least 4 hours of private study in addition to the work set by your tutor from the previous session. Whilst they are happy to cover topics that will undoubtedly be useful, you'll gain more from the sessions if you come prepared and armed with questions.
These sessions are a two way process and the more you put in- the more you'll get out. Students who tend to improve the most are also the ones who persistently ask their medical tutor for focus on their weaknesses, week after week!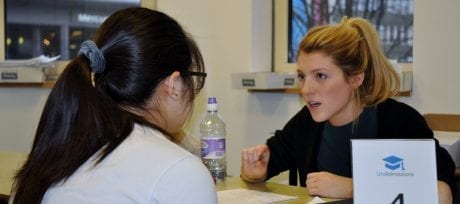 The Ultimate Medical School Interview Support
Expert Tutors and the Best Resources Available
Written by doctors & contains fully worked model answers to 150 commonly asked interview questions
Find out More
Experienced Medical tutors dedicated to ensuring you secure a place at medical school
Find out More
Individual Attention
Dedicated individual teaching that is tailored to your strengths and weaknesses so that you make rapid progress
Ongoing Support
Access to your expert tutor till the day of your interview so you're never alone or stuck
``What materials and resources do you provide?``

You'll get a copy of our exclusive Medical school interview guide that covers core topics like medical ethics, situational questions and is packed with powerful strategies and techniques to help you speed up.

``Where are the tutorials held?``

Usually in a location that's convenient for you and your tutor in Central London. In some cases, it may be possible to have the sessions at your house, depending on your location. If you're not near these locations, you can get tutoring via Skype.

``I've had my last tutorial but need help with a topic, can you help me?``

Of course! We're here to support you till the very end. Contact us now and we'll be more than happy to help.
``I'm struggling with one area - can I spend the entire tutorial on it?``

Absolutely, and we'd encourage you to do so. Make sure you give your tutor enough notice (at least 5 days) for them to prepare the appropriate materials.

``I'm applying for Dentistry/Vet. Sciences - can you still help me?``

In short – yes! There is a huge overlap in these subjects with medicine and the interview questions and style are actually very similar, for example medical ethics.

``I haven't had a tutorial yet, what times can I book for?``

If you haven't had your first session yet, Book now to start things off. We will contact you within 24 hours and find out your exact requirements. You'll then be matched with a tutor that is best suited for your needs.
"Please pass on our thanks to Jonas – Leo got an interview offer from Oxford and it wouldn't have been possible without his expert help"
Offers from UCL, Birmingham and Keele