Medical School Interview Tuition
Bespoke Expert Individual Tutoring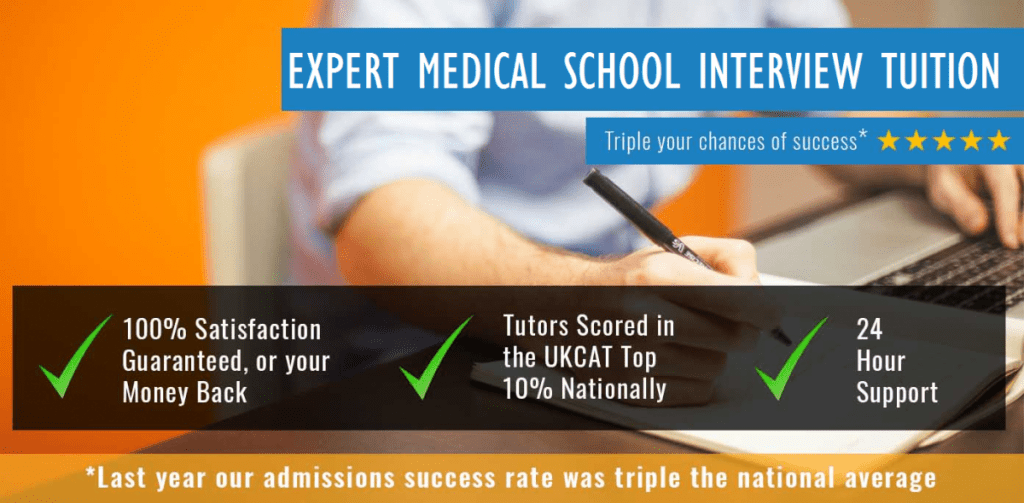 How Medical School Interview Tuition will Improve your Interview Score
Our Medical Interview Tuition will maximise your chances for the upcoming Medical School Interview. You will be paired with an expert medical tutor – a doctor or senior medical student – giving you valuable insight into the interview process. Your tutor will go through vital techniques and strategies to answer commonly asked interview questions and focus on your weaknesses to ensure you get that dream offer.
Speak to our admissions team to book or for more information
Expert Tutors and the Best Resources Available
Individual Attention
The medical interview tuition is tailored to your strengths and weaknesses so that you make rapid progress.
Expert Tutors
Experienced Medical school tutors dedicated to perfecting your interview technique.
Ongoing Support
Access to your expert tutor till the day of your interview so you're never alone or stuck.
Free Interview E-book
The guide contains 150 Interview Questions that have been asked at 25 UK Universities.
Medical School Interview Tuition FAQs
You'll get a copy of our exclusive Medical School interviews guide  that contains over 150 previously asked Medical School interview questions and is packed with powerful strategies and techniques to help you succeed on interview day.
Usually in a location that's convenient for you and your tutor in Central London. In some cases, it may be possible to have the sessions at your house, depending on your location. If you're not near these locations, you can get tutoring via Skype.
Of course! We're here to support you till your very last interview. Everyone who books individual tuition gets ongoing tutor support until their final interview – even if they use up their sessions beforehand.
Absolutely, and we'd encourage you to do so. Make sure you give your tutor enough notice (at least 48 hours) for them to prepare the appropriate materials.
Yes you can. You're in charge of what you want to spend the session on – the tutors will have topics to cover but you'll gain much more if you direct the sessions.
If you haven't had your first session yet, make a booking to start things off. Our staff will first match you with a tutor that is best suited for your needs and call or email you to confirm the time and location of the first tutorial. This is usually done within 48 hours.
Our tutors work around your timetable and will setup sessions at a mutually convenient time – including evenings and weekends if that's what's right for you.
3 X THE NATIONAL AVERAGE SUCCESS RATE
In 2017, 63% of our students gained a place to study at Medical school. That's triple the national average!
500+ SATISFIED CUSTOMERS
Last year our resources helped 1000's of students!
99% 5 STAR REVIEWS
99% of students rated their medical interview tuition experience with UniAdmissions 5 stars last year!
What have previous students said about medical interview tuition?
PREPARING FOR YOUR SESSIONS
The key difference between private tuition and our intensive courses is that you control the pace and content of the tutorial. This means that it pays to be organised – avoid turning up to the session without having done at least 4 hours of private study in addition to the work set by your tutor from the previous session. Whilst they are happy to cover topics that will undoubtedly be useful, you'll gain more from the sessions if you come prepared and armed with questions.
These sessions are a two way process and the more you put in, the more you'll get out. Students who tend to improve the most are also the ones who persistently ask their tutor to focus on their weaknesses, week after week!
Speak to our admissions team to book or for more information