The Night Before the Interview: How can I help?
However your child is feeling about their Oxford interview preparation, there is no doubt that there are some basic logistical issues which can be really useful to run through the night before or immediately in advance of their trip.
As the prospect of the interview itself might be making them feel nervous or distracted, it is worth making sure they don't forget about the more obvious but easily forgettable points – after all, it happens to the best of us. Looking at these tips is a useful part of their Oxford interview preparation and can really help them to focus on what they have to do as comfortably as possible!
1. Run through the timetable
As your child will have to travel to Oxford and find their way around, make sure they have booked suitable transport on the right day and time! It sounds really obvious, but there is really no harm in grabbing the invitation letter from the college and double checking that they are set to arrive there with plenty of time. Transport can be stressful and amongst all the Oxford interview preparation they are doing they can get lost, literally. It's would be worthwhile you booking this with them.
As for the interviews themselves, there will be student helpers on hand and all the other college staff on site who are super friendly and will guide your child where they need to go. However, it is worth checking that your child has noted down the times of any interviews they know in advance.
They may not know the exact times yet however, in which case just confirm whether they know how many interviews to expect. For those who have to do interviews at a department or a faculty building (don't forget to check whether this applies to your child's course) it can be worth working out the route by foot in advance. Get your child to take a map or save the map of the campus to their phone and write down how long it takes to make sure they make it on time.
2. The Packing List
It may seem really strange for your child to head off to their Oxford, after all that Oxford interview preparation, without knowing how long they will be staying there. Rest assured that most basic amenities including meals will be provided for them.
It would still be good to pack the following:
Clothes, toiletries and any personal items such as contact lenses or medication
Book(s) – there is quite a bit of waiting time and thus something to help pass the time is always a good idea!
Printed copies of their personal statement and/or submitted work if they want to read over it one last minute
Chargers and electronics
Don't forget that your child has also packed suitable clothes for their interview. If they still don't know what to wear, point them in the right direction. We've written an article on what to wear for an Oxford interview which will help too.
For more information on how to prepare your child for their Oxford interview, check out our other articles!  We've written down some hints and tips as an Oxford interview preparation guide for parents which might be of interest to you. We also can help out with other aspects of Oxford interview preparation.
Book a free consultation here and speak to one of the team >>>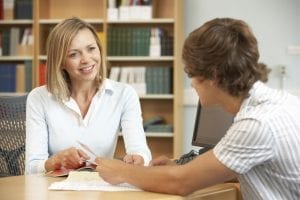 3. Give them a point of contact
Of course, everything is very overwhelming at the time of the interview and as a final piece of Oxford interview preparation, you might want to point them in the right direction for who to ask for help.
There will be student volunteers on hand for the whole team so we suggest that your child asks for their names and how to contact them on arrival. And remember that everyone there is working to give them a good experience after all their hard work and anticipation. Best of luck!
Get your Child onto the Oxbridge Interview Crash Course
Do you want to give your child the extra opportunity to do well in their interview? Get them on our Oxbridge interview crash course. The interviews are the finish line to the Oxbridge application so you want to make sure that your child does their utmost beforehand to make a great impression. On the course, your child will learn the communication and interview skills required at an Oxbridge interview. Through the course, they will be able to practice how to answer the tricky questions in a mock interview scenario as they could expect on the day.
If you want to learn more about the course, browse the information online or feel free to give us a call.
Get the Latest on the Oxford Interviews
If you want to keep up with what's been going at the Oxford interviews, read our blog. Read the stories of now-Oxford students on their interview experiences and ease your child's nerves. There are those that have been in their exact same place and now look where they are. You can also read what life is really like at an Oxbridge University. Whatever it is you're looking for and whatever question you may have, we will be able to answer you here.