All UK medical schools now require you to take either the UCAT/UKCAT (UK Clinical Aptitude Test) or BMAT (BioMedical Admissions Test).
These are held in the summer or autumn of the year preceding the year of entry you are applying for. Most medical applicants tend to take both exams or just the UCAT/UKCAT, but there are also some applicants who choose to only sit the BMAT exam.
There's no way around having to revise and sit at least one admissions test, but which one should you pick, or should you go for both?
The UKCAT is now called the UCAT – the tests are completely identical so any reference to the UKCAT can be applied to the UCAT.
There are some key differences between the UKCAT and BMAT to consider when deciding whether to sit just the UKCAT, just the BMAT, or both exams:
Different medical schools require different exams…
Some universities require you to take the ukcat and some require you to take the BMAT. If there's a medical school you've got your heart set on, it's really vital to check which admissions test you need to take to apply and make sure you register for it before the deadline! A list of UKCAT medical schools can be found here and BMAT schools here.
When you find out your results
A major difference between the ukcat and BMAT is when you find out your scores.
For the ukcat: you will receive your results as soon as you walk out of your exam! You will, therefore, know your ukcat scores before you apply for medical schools.
If you take the BMAT: you have the option of sitting it in either September or October and your BMAT results will be released around 3 weeks after your test day (released on 21st September for the early sitting and 23rd November for the later sitting). This means that those who take the September BMAT will be able to apply to medical schools knowing their BMAT score, whereas those who take the October BMAT will take the test and find out their results after the application deadline. If you're applying for Oxford medical school, they will only accept the BMAT results if you sit it in October.
This is something to consider because taking the ukcat or September BMAT means that you will be able to apply to medical schools more strategically by looking at the which universities use the test scores in a way that fits your score.
Style and content of the exam…
Although both the ukcat and BMAT test the way that you think, they consist of different sections, which test different aptitudes to each other. The UKCAT test splits questions into 5 sections: quantitative reasoning, verbal reasoning, abstract reasoning, decision making and situational judgement. On the other hand, section 1 of the BMAT tests critical thinking, numerical and spatial reasoning and problem-solving, similar to the skills needed for the ukcat, but all of the questions are mixed into one section.
20 POINT UCAT & BMAT CHEAT SHEET
✔ Get Marks Most Students Won't
✔ Actionable Tips
✔ Specific To Each Test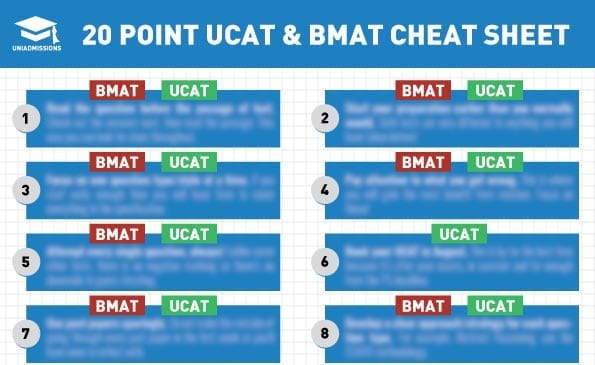 The key differences between the BMAT and the UKCAT are that there is no equivalent of BMAT section 2 and 3 for the UKCAT.
Section 2 tests scientific knowledge (to GCSE standard) and section 3 tests your ability to structure and write an argument. Often, students struggle with one of these sections in particular – if you're more mathematically minded, you might find essay writing harder, or the reverse may be true (unless you're the lucky few who are confident in every section). These extra skills tested in the BMAT as compared to the ukcat are an important consideration when choosing which exams to take.
To conclude…
The general advice is that all medical and dental applicants should take the ukcat, as you will receive your results before applying so you can then make the decision as to whether to apply to ukcat medical schools based on your mark. This means that there's really nothing to lose from taking the ukcat.
Taking the BMAT exam carries more risk if the university that you're applying to requires you to take it in October, as you will have applied before taking the exam. However, the BMAT is a good alternative if you have not achieved a high enough score in the ukcat, or, if your truly want to study at the BMAT medical schools to which you've applied, I'm sure you'll agree it's worth the risk!
Get expert support from UniAdmissions with every aspect of your medical school application. Triple your chances of Oxbridge medical admission with our bespoke programmes.