It's common knowledge at the University of Cambridge – some colleges receive more applications per place than others; a detail we can see demonstrated on the Cambridge Admissions Statistics website.
Some colleges simply appear more popular to applicants than others – and nervous candidates often try to work this to their advantage. By applying to a college with fewer applicants per place, you maximise your chances of getting in, right?
Well, theoretically right – but almost always in practice, completely wrong.
All applicants to Cambridge are measured against several factors during admissions – the other applicants to the college are a small, and ultimately minor, part of this large-scale comparison project.
There is a minimum standard that candidates need to demonstrate definitively across the admissions process: whether this is in formal examinations, admissions tests, and interviews. Even if there's only one applicant for a subject at a college, they wouldn't decide "we've got no-one else, so we've got no option but to take them".
There is no shortage of people willing to study at Cambridge – no matter which college they get allocated to – the University simply isn't in the position where it needs to lower its minimum standard due to a lack of alternative candidates.
Here's where the 'Winter Pool' comes in.
Many of you know that, when oversubscribed colleges can't take every qualified applicant, they place the surplus in the "Pool".
Colleges that haven't filled its places after interviews will "fish" some of these candidates out, and give them an offer. But if you thought the Winter Pool system is a last resort, mostly for colleges that can't scrape together a healthy applicant to place ratio, and used infrequently, you'd be wrong.
The Winter Pool is responsible for 25% of all offers made – and even colleges that are initially oversubscribed frequently utilise it to bolster their numbers, after interviews conclude.
Annually, hundreds of talented candidates pass through the Winter Pool. You're not just up against the applicants to your college, but against the high standard admissions tutors know they'll find if they peruse the Winter Pool.
Therefore, applying to an undersubscribed college solely because it's undersubscribed is a fruitless endeavour. It won't improve your chances of getting in, and you may end up at a college that wouldn't be your first choice.
Moreover, you can in no way second-guess application behaviours year-on-year, making this tactic even more tentative.
When picking my college, I noticed that one, for four years running, only had 3-4 applicants for the 2 places it offered. Surely, by applying here, I'd be fighting minimal competition – and therefore, maximising my chances of selection.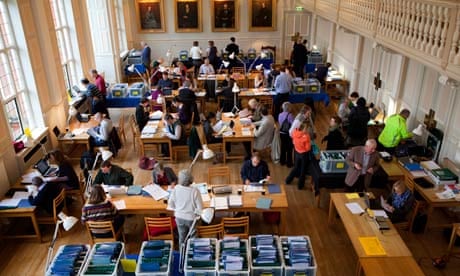 Cambridge admissions office hard at work.
Tentatively, I submitted an application. I was invited to interview; soon after, the Admissions Statistics website updated and I could see how many people had applied for the place I coveted. My heart dropped as the page refreshed. Bucking the trend of all other years, my subject had received 10 applications – more than double the expectation.
In January, I was thrilled to receive an offer. However, on meeting my subject buddy in October, I was surprised to hear she was taken from the Winter Pool – despite the unprecedented oversubscription of the college that year.
It didn't matter how many people had applied; if someone wasn't right, they wouldn't offer them a place out of obligation.
If you're right for Cambridge, you'll get in no matter where you apply – so have confidence! You deserve to end up wherever you'd like to be, so if you want to go to a particular college, ignore the stats and chase that dream!
Regardless of your college choice, Cambridge is an incredibly competitive university to get into. At UniAdmissions, we have tripled students enrolled on our Programmes' chances of success. Find out how we can help triple YOUR chances of success.
FIND OUT HOW WE DO IT