With less than 6 months until admissions tests in November, what should you be doing to make sure you nail that test and get your dream offer?
In this post, we'll go through what should be your timeline of events from 6 months out until the night before. Follow it closely and get the mark you deserve!
T minus 183 days/6 months:

The Research Phase
183 days might seem like a lot of time, but it will fly by before you know it.
Think about your GCSEs – in November you thought "Well I've got months to go, no need to start now, right?" Wrong!
There is a ton of evidence which proves early, spaced repetition is the best way to revise. Sure, you can cram in 8 hours a day for 2-4 weeks, but you won't do as well as if you did 30 minutes a day for the previous months.
We recommend you take the time you have now to research. Those 15-minute breaks you have when revising or writing your Personal Statement – make them useful!
You should do as much research as you can on the test you need to take. If you're taking the BMAT, read into Section 1, Section 2 and Section 3 in-depth. Taking the NSAA? Find out about the specification of each section.
The more you find out about each test at this stage, the easier it will be to plan how you prepare for them.
Students enrolled on UniAdmissions' Premium Programmes are 3 times more likely to get a place at Oxbridge, and 7 times more likely to gain a medical school offer!
T minus 153 days/5 months:

Plan It Out
At this point, you would ordinarily still be sitting your AS level exams. They would have taken priority right now, but with the extra time now available to you, you have to keep your admissions test in mind. Without a strong admissions test score, all university admissions tutors have to work off are your assigned AS and predicted grades. This year, more than ever, needs a strong admissions test score to stand out from the pack.
Now is a great time to plan how you're going to nail the test. You're still in revision mode so you're in the right mindset for this step. You know what has worked for your exams in the past and you know what didn't work so well.
Create a timetable for yourself to follow, starting this month and running all the way until the test date. Don't worry if you have to change things up in future, this is a loosely structured plan which will give you an idea of how much time you have to achieve everything.
Although it might feel like wasted time right now, planning saves you a ton of time down the line. If you can wake up and just glance at your plan to know what you want to achieve that day, you save 20-30 minutes deciding each time.
Another benefit of the plan is that you'll cover all topics equally. Of course, if you feel like you need more time on a certain topic, say Section 1 of the TSA, then you can allocate more time for it.
T minus 122-92 days/3-4 months:

Intensive Revision Starts
Now is the time when the strength of spaced repetition really comes into play. The school summer holidays have started and your would-be exams are completely out of the way.
By all means, enjoy the holiday and don't make it completely about revision, but make sure you stick to the plan you created.
We recommend 30 minutes a day of intensive revision for your admissions test. Don't touch past papers just yet, focus entirely on the specification and some practice questions.
You should also look at strategies on how to answer specific question types. Don't rely on yourself to figure out the best techniques for these. Our Ultimate Guide books and blog have tons of strategies to implement for different questions – use them!
30 minutes a day, split up into 15 minutes in the morning and 15 in the evening, will have a huge impact on your final score. Because of the time frame you have available to you, these minutes will add up very quickly.
Make sure you go over recently covered topics again so you're forced to recall that information from your memory. This is the proven concept behind spaced repetition and the reason why this methodology works.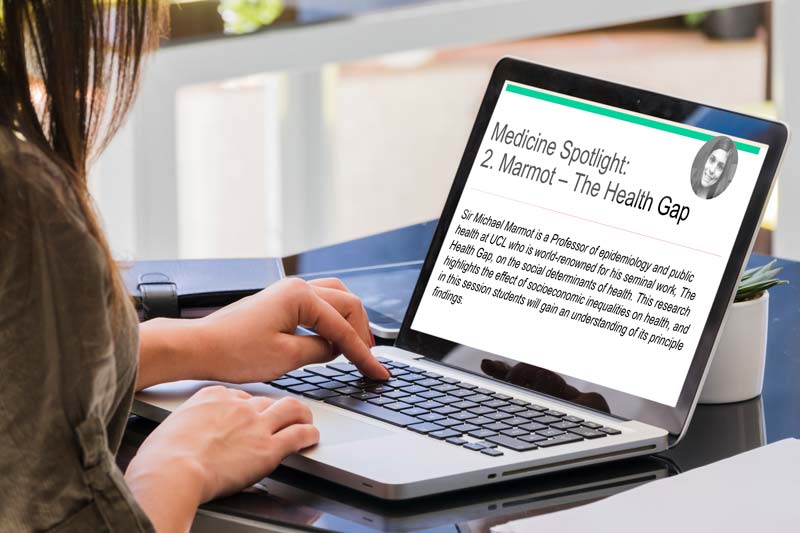 Getting deep into the revision.
T minus 61 days (2 months) –

Strengths and Weaknesses
By now, you're light years ahead of the average candidate.
Pat yourself on the back! However, this isn't the time to stop and revel in your greatness (well, maybe a little, but not too much).
We've got statistics showing the average admissions test scores of unsuccessful and successful applicants.
For example, in the BMAT, most successful candidates score 6.0+. The average score is around 5.0. The aim is to be in the top 40% scoring the 6.0+ to be considered a serious candidate by universities.
At this point, you have a solid understanding of each section, the topics covered in them and the types of question you will face. It's now practice paper time… but hold on! Don't just go ahead and do every practice paper you can find. Official past papers are a finite resource and should be used carefully.
Write down your strengths and weaknesses. These can be topics, sections, subjects or particular question types. Whatever you don't seem to do well.
UniAdmissions do have extra practice papers, written exactly in the style of the real exam which you should also use.
We recommend you take a recent past paper under timed conditions in a test environment. This is extremely important. Doing the test under these conditions will give you a much more accurate score, reflecting the true score you would have deserved.
Mark this test and identify your key areas of strength and weakness. Got them? Now, look at the plan you created a few months back. There will be time set aside for topics you've just proven you can do perfectly. Also, there will likely be time set aside for topics you didn't do so well on. Adjust your plan so you have more time for your weaker topics.
Even if you got 100% of the ENGAA Maths Section 1 questions right, don't take it off your plan entirely. Remember – spaced repetition. Spend less time covering it, but a quick refresh every few days/week will keep that section a strength.
T minus 29-1 days/1 month:

Strategies and Final Brush Up
The final month. Everything you've been preparing for so far comes down to what lies at the end of this. Again remember – you are way ahead of 90% of candidates by this stage. Most will only be starting their preparation now and fatiguing themselves quickly.
You can ramp up your preparation time from 30 minutes to an hour or two at this point if you feel it necessary, if not just for peace of mind. We recommend you use this time to use up the rest of the past papers available and brush up on all topics. Make sure to mark and identify strengths and weaknesses after each paper. Also, find what score you would have achieved and compare to your previous test scores.
All tests should be done under test conditions so you're 100% used to the time available on the real day.
Now is also a good time to implement some auxiliary support. Things like practicing speed reading can be of huge benefit for some tests, such as the BMAT, which are really time-constrained. Is it a pen and paper test? Get your hand ready to write for 2 hours straight but make sure you can write legibly and quickly!
You shouldn't have any new topics or questions to shock you at this point, so everything is a case of remembering what you should have already done.
T minus 1 day:

The Night Before
No need to stress.
If you've followed this plan, you're well and truly prepared. There's nothing more you can do and there's nothing more you should need to do! Our final tips to you:
Get a good night's sleep
Get to the test location nice and early
Set your clothes out the day before so you have one less thing to worry about
Make sure you know exactly how you're getting there
Account for traffic/any other delays
Smash that test!